The Shoebox is Sarnia's only independent family shoe store. Valerie Young, who purchased the business in 2007, explains that, "People have come in and said the store is the hidden gem of the city." Bob Isard opened the store in 1971 at the Eastland Plaza and later sold to Bob and Donna Elie. The Elie's owned the business until Young purchased it. It has relocated a few times over the past forty-six years. "The store has a very loyal following. We hear great stories all the time. We've had fifth-generation shoppers in here," says Young. "Customer service is very important and it shows."
Young previously worked for Trans Canada Credit in the same plaza as The Shoebox and quickly became a regular customer. Young had a powerful desire to be her own boss. Having worked in the retail industry for a number of years, she jumped at the opportunity to purchase the well-established business. She believes strongly in the saying, "If the shoe fits…" Young recently moved the store to its current location at 565 Murphy Road. "It was a larger location and I was able to design and build the space from the ground up," she explains. The move was completed prior to their 45th Anniversary, which was in June 2016. "We celebrated this milestone for three days! It was a lot of fun," she adds.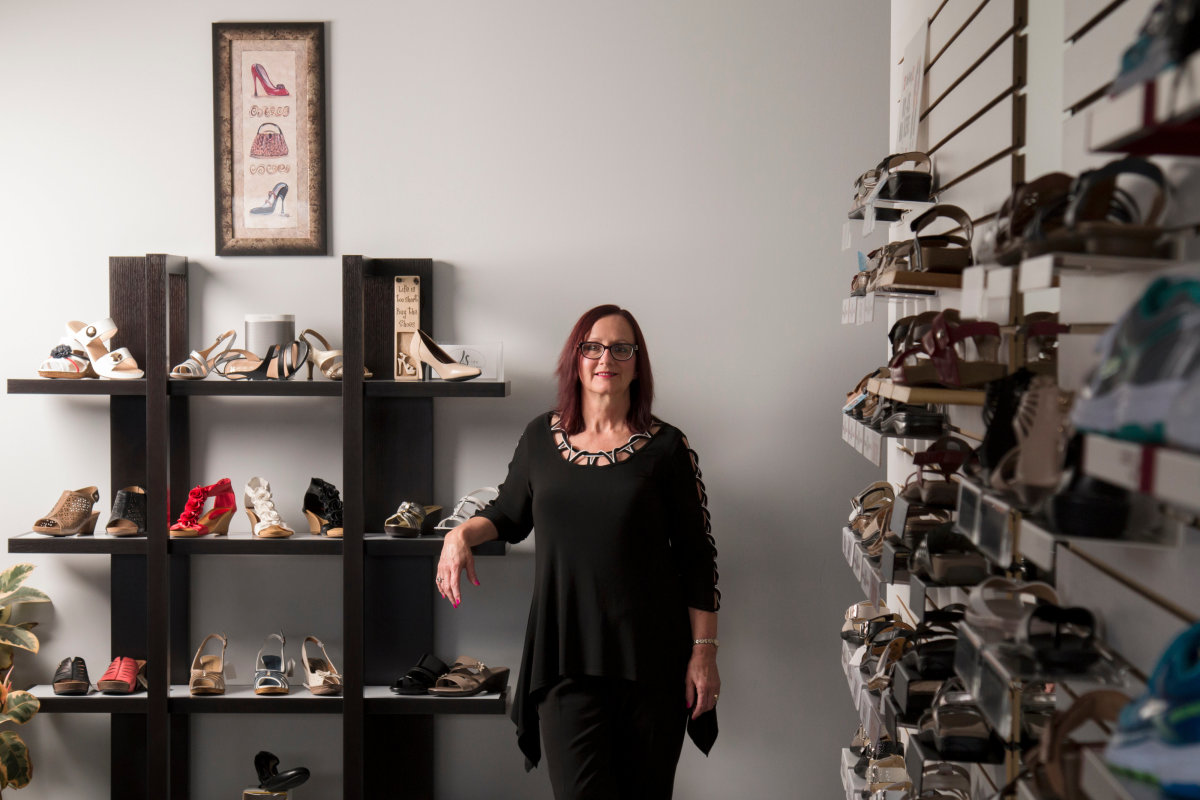 Customer relationships are a priority for Young. She enjoys meeting new people and keeping in touch with past clientele. "You hear their life stories, sometimes they leave laughing and sometimes they leave crying. We are here for our customers and become friends with a lot of them," says Young. The staff are trained to help each customer find the perfect pair of shoes to meet their needs. "If they live in a nursing home and can't come into the store, we let the family take footwear to them, or we will go ourselves to ensure a good fit." The local foot doctors often refer patients to the store as well. "Many people wear orthotics and we will fit the shoes for them." The lines they carry are all quality shoes that look stylish and will last. "Our pricing is affordable without compromising quality."
The new space has allowed The Shoebox to carry even more brands, including Volks Walkers, Josef Seibel, Birkenstocks, Saucony and New Balance. "It's a bigger, brighter store with better parking. I love my store and can't wait for customers to come in and show them what we have." Gift certificates in any denomination are always available. Their Facebook page has the information to keep up-to-date on all store happenings. Young is also very active in the community. Last year she was the CIBC Run for the Cure Local Hero. "I am a two-time breast cancer survivor, so being asked was a real honor," says Young, with a smile. "My advice to everyone is always, 'Life is too short, buy the shoes!'"
For more information, visit them on Facebook.