Though he is only 38 years old, Ron Realesmith has a great fascination and respect for those who served in the Canadian Armed Forces. So, when his friend, and current Sarnia Legion President, Les Jones, encouraged Realesmith to get involved with the local Legion, the Emergency Manager for the City of Sarnia leaped at the chance. "I have always had an interest in it. I think Veterans' affairs need more attention and that our awareness has kind of dropped off the radar." Having risen to first vice-president of the Sarnia Legion Branch 62, Realesmith has now been involved in the Legion leadership group for five years.
The Sarnia Legion Branch 62 is very active in Sarnia-Lambton. "We donate thousands of dollars a year to the community." The Legion runs a very successful Catch the Ace event, open to the general public. This progressive raffle has participants purchase a ticket for a chance to win in the weekly jackpot and also the progressive jackpot. "In back-to-back events, somebody took home just shy of $30,000, which in-turn, raised a considerable amount more for the Legion, and that goes right back into the community."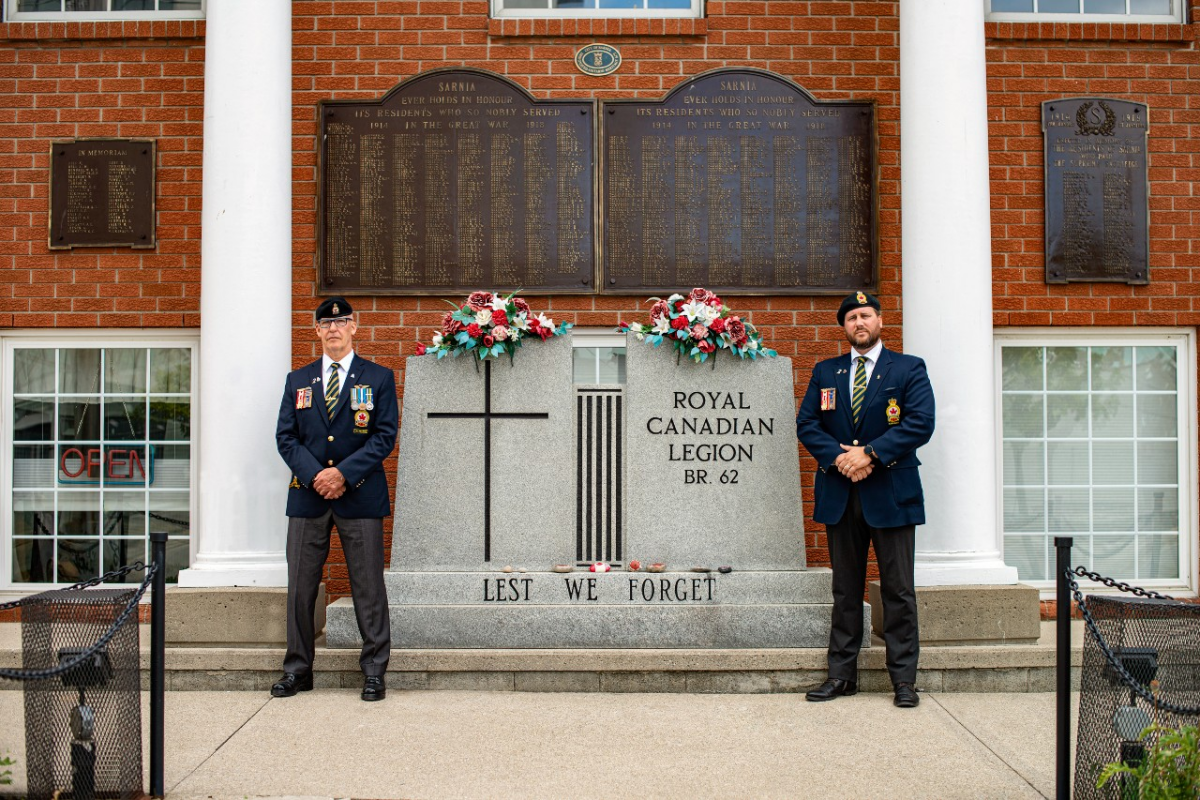 Pictured here, from left, Sarnia Legion Branch 62 President, Les Jones with Vice President Ron Realesmith, standing in front of Sarnia Legion Branch 62.
It is important to Realesmith that the people of Sarnia remember those who went to war. "There are a lot of Veterans," Realesmith says. "When most people think of Veterans, they think about World War I and World War II, but they don't take into consideration the peacekeepers, the war in Afghanistan, the Korean War, and other conflicts." The city of Sarnia has a rich military history. It wasn't long after the city was founded in 1914 that WW1 broke out. Of the ten thousand residents at the time, a thousand local men went to war. "That means 10 percent of our population disappeared that year. That is a wild number!"
At its peak, Sarnia Legion Branch 62 had over 2,000 members. There are currently around 500 members, but Realesmith and the branch are encouraged for the future. "We are a membership that is currently on the rise," he says. "And every Legion is run by volunteers." The Ladies' Auxiliary oversees all events for the upstairs hall, and the executive oversees the day-to-day operations and public events. "There is no paid staff that is on the executive, so if the volunteers don't show up, we'd be forced to close. We do have some paid staff – bartenders and an office manager, but every event that we put on and every money-making initiative is all run by volunteers."
There is a clear vision of what exactly the Legion tries to accomplish. "The mandate of all Legions is the act of remembrance and taking care of Veterans and their families. The Sarnia Legion puts this mandate at the focus of all that we do. For instance, we own a van at our Legion and that van exists to ensure Veterans and their family members can get to medical appointments and other events. My dad, Ron Smith who is also a volunteer and a Veteran, recently drove our Silver Cross family to Toronto for an eye appointment. He picked them up and dropped them off at the front door. That is the type of service we offer to Veterans and their families."
This story is brought to you by the Rotary Club of Sarnia.