Hughes Intelligence Canada, a Private Investigation and Security Services company, was established in 1994 and is locally owned and operated. "It was originally a Private Investigation company and when I took ownership in 2007, we added security services," explains owner Barry Bentley. Bentley immediately recognized the need for high-risk protective services and assembled a multinational team of seasoned professionals with military and law enforcement backgrounds. "This complemented the existing team of investigative and security specialists." Bentley spent twenty-five years in Policing, five years in Toronto and the remainder in Sarnia. The original owner, Ron Prior, is still involved with the company. "Ron was a Staff Inspector in Toronto and was one of my bosses when I first started in my career as a Police Officer."
Hughes Intelligence offers a wide variety of services including Security, Private Investigations and Training. Bentley brings his many years of experience in Auto Collision Investigations. "I was a Collision Reconstructionist for a major part of my career. I really enjoy this type of work. We offer this as one our services and we conduct training sessions in this area as well." Bentley's favourite aspect is conducting investigations. "I like work that involves interviewing, gathering facts and putting together that puzzle. Equally, I enjoy developing security and procedural plans for businesses." Private investigation work has been completed Canada-wide. "We've located missing persons for families. We also locate and interview witnesses." They have also conducted some major fraud investigations. "We completed one recently for a client which enabled them to expedite the process and have the police involved to bring charges. The London Police gave us a letter of commendation. The Fraud Officer said that this is the biggest case he had worked on in his 30-year career. I'm very proud of our team, my staff is second to none."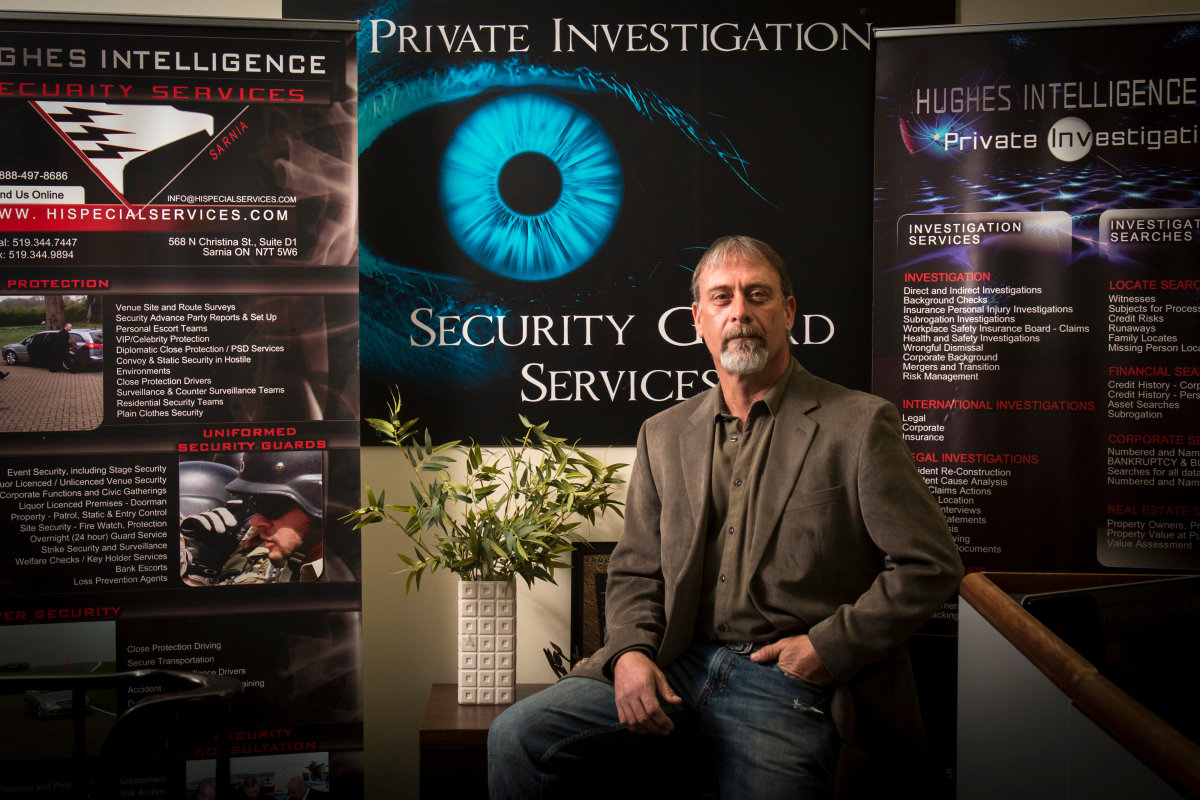 Security services is a significant part of their work. During the summer months, they employ close to seventy security personnel. They offer security services for special events, bars, construction, nursing homes and corporate clients. They also have a mobile patrol. "We provide Close Body Protection. One of our jobs involved protective security for celebrities at the Toronto International Film Festival." Close Body Protection clients include dignitaries as well as band security for major concerts. Other services include pre-employment screening and background checks for corporations.
Hughes Intelligence is also a recognized training entity by the Government to provide Security Guard and Private Investigative Training. "Training programs have also become a big part of the business. We have dedicated staff." The company offers training programs in Drug and Alcohol Awareness, Workplace Violence, Effective Communication and Scene Management. "We develop training specific for each client's needs."
Bentley's business has increased substantially over the last decade. "We've made a lot of changes over the last eleven years. The team has been supportive and has come together to help with the company's growth." A lot of the company's business comes from repeat customers and referrals.