Joel Skinner knows his way around a map. When he is not coaching the Sarnia Athletics Southwest Track & Field Club, he is teaching Geography and Physical Education at Great Lakes Secondary School. This knowledge has proven helpful as he travels around the globe. "I've taken certification courses. I've attended clinic after clinic. It has been a great way to connect with other coaches. When you work with very talented athletes, you always need to keep ahead of where they are at," Skinner explains.
The Track & Field Club was formed in 1996, and Skinner has been involved for the last 15 years. "We started out as a small club, run by Mark MacDonald, that originally focused on long-distance running. When I came back from university, I inquired about coaching, and was supported from the outset." Skinner began by putting together a team of javelin, shotput and discus throwers, as well as a group of jumpers. "We had a lot of good throwers around this time and we won several Ontario and international medals. The club has had some very successful athletes." One notable club member is Olympic high-jump gold-medalist Derek Drouin. "Derek has been a big influence, continues to be a member, and supports the club."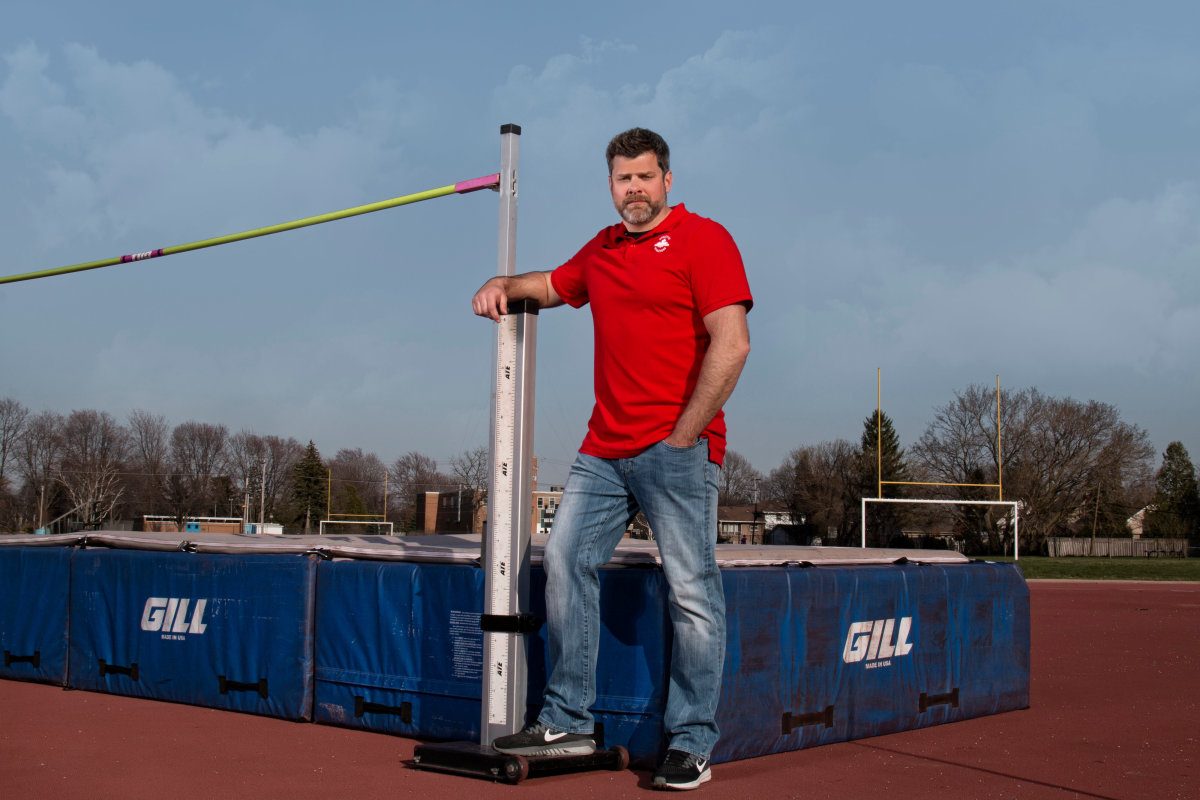 Skinner is also very proud of the current coaching team. "Evan Stevens is our distance coach. He went to the University of Guelph and is still an elite distance runner." Maggie Mullen coaches the throwers alongside Skinner. "She went to The Ohio State University on scholarship and was a Big Ten Conference champion. It is so nice to see my athletes go through the program and come back as coaches." Jillian Drouin is training and assists with the club administration. "There is more than just coaching, and we share a lot of the club duties." Irene Payne was the club administrator for a very long time, and now Sarah Luttrell is taking over that role.
Leslie Cadwallader and Cindy Dubois have organized the fundraising bingos, while Tom Coyle is responsible for the summer students. "We wouldn't be able to function as a club without the help of great people." Skinner aims to keep raising the bar that Pat Brown has set for the facility and the club. "Pat continues to fundraise and maintain the Sarnia Central Athletics Facility, and is truly one of the most respected, hard-working individuals in the history of Sarnia-Lambton athletics." Bob Newman has also played a huge role with the club through coaching, donations, website maintenance and officiating.
The club's ultimate goal is to give the participants an excellent experience. "As a coach, I want to help athletes understand their options and to get a great education." Skinner is also looking forward to his newest role. "I am the head coach for the World Junior Under 20 Championship team, which has certainly been a dream of mine. This is my tenth national team and my first head coach position. To be recognized as a national team head coach gives me confidence that people see value in track and field in Sarnia-Lambton."