DOG EAT DOG, located at 161 Mitton Street South, features rustic-industrial furniture and décor created by local artisans. Owner Chrissy McRoberts wanted a store like no other in Sarnia, bending the rules and having fun. The store is filled with available work to purchase and every artisan is available to accept custom orders, making the store unique and ready to please every customer walking through the door. The artisans are also willing to collaborate on a custom piece to create something truly one of a kind.
McRoberts spent her early years in the military, followed by 23 years in hotel management. She began woodworking in 2013. Her first piece was a recycled furniture dog bed for her bulldog, Legend, and once it was complete she realized there was a market for custom-made recycled furniture and decor. "I went into my 'stable' job and gave my two-week notice. It was the scariest thing I have ever done in my entire life, but I'm an all or nothing type person, so I just went for it."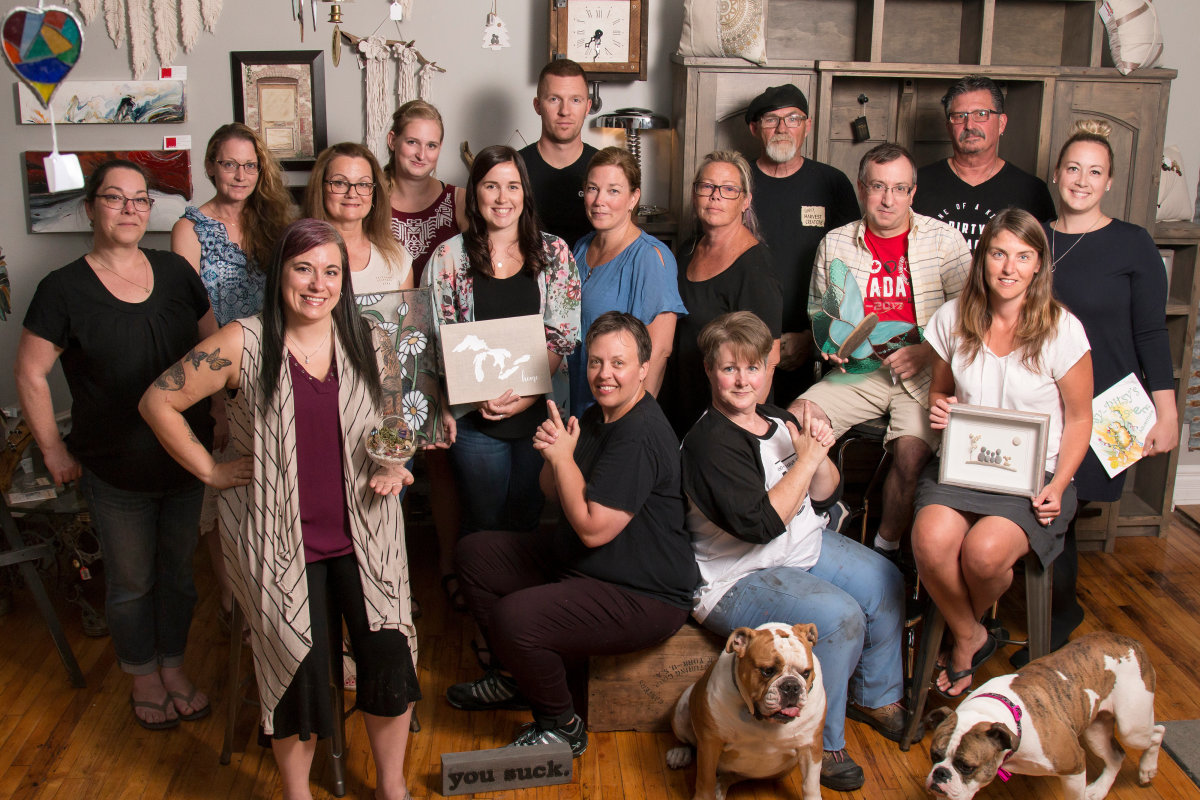 McRoberts didn't want to go into debt to start her business. "I used recycled wood and worked out of a tent in our backyard for two winters and one summer to keep down costs. I knew my body couldn't handle a third winter in the tent, so my partner and family all jumped in and built a 12x12 shed out of pallets and discarded deck lumber." The shed carried McRoberts through the next three years and it was there that she started to build large custom commercial pieces. She also completed the Momentum Program through The Cube at Lambton College during this time, which provides hands-on learning opportunities and mentorship to entrepreneurs in the community.
As her business grew and the custom pieces grew larger and larger, McRoberts knew it was time for a store. Knowing that not everyone would like her rustic, industrial aesthetic, she invited 29 other artisans to join her, including five other woodworkers. "I'm not in competition with anyone. We are a team. We have the strength of 30 artisans, and we have each other's backs." Artisans pay a monthly fee to show their pieces in the store and receive 100% of their sales.
Legend is still a big part of DOG EAT DOG. He greets every customer and raises funds for the Sarnia Humane Society by showing off his tricks and asking for donations. McRoberts wants to generate enough income from the store to launch her next dream. "I want to create a place for tiny homes in Sarnia, one area of town for the homeless so they can be safe and one for community members who want an opportunity to live debt-free. I love Sarnia and want all of us to succeed."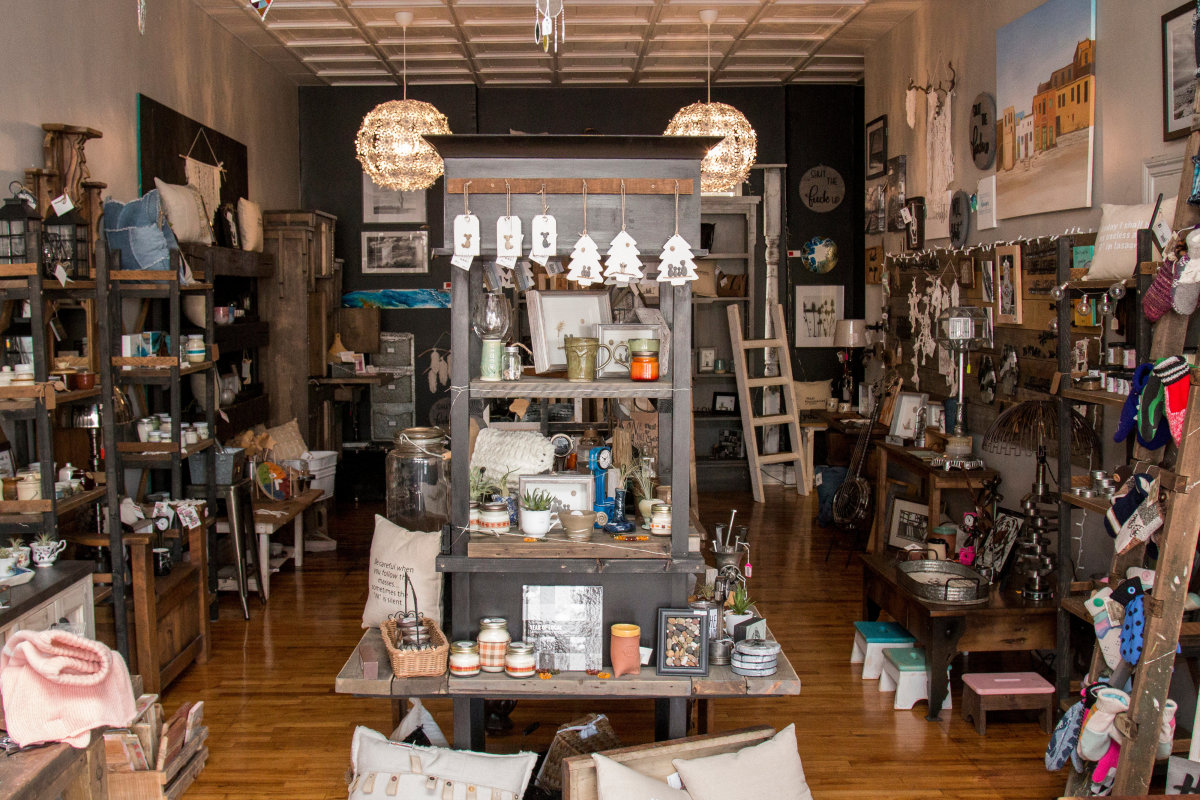 ----------
Below is a list of local artisans that are featured at DOG EAT DOG:
DOG EAT DOG-6 yrs dedicated to upcycling wood/furniture in a FunkShui-rustic-industrial style.
hudsonblu woodcraft-Scroll saw artist with amazing skill and humor.
LAC Pebble Art- Setting your family in stone creating one of a kind framed pebble Art pieces and ornaments.
Simply Harvest Creations – Robert Bastarache & Donna Robb. Custom built furniture.
Lil' M&M's Art- Hand crafted/painted stone and tile home decor.
Kim's Accents In Glass- Original stained glass and mosaic Art.
Pearly's Rose- Macrame maker and creator of the Fishtail Feather design.
Thru the Eyes of a Gemini- Locally made hand poured soy candles and piece work.
J.Douglas Author- "Itsy-Bitsy's Science Adventure", a STEM book for children ages 2-11.
Kristy's Seamstress Services- Repairs, alterations, recovering, hemming and custom creations.
Angela Brodhagen- Handmade and custom cards for every occassion.
MUGnificient Pottery by Nancy- Through colour, imagery and form she creates pottery pieces that are expressive for all to enjoy.
Lisa Cattran Photography- Capturing moments in time through the lens of her camera.
Vitreous Design- Creator of unique, colourful, custom designed glass artworks.
Jordan Parker, President of Grafted Kitchens and Millwork Custom Cabinetry, Counter Tops, Woodworking, and Millwork.
Love Hayt Vinyl- Custom vinyl work featuring signs, cups and tumblers.
Colourful Burnt Dirt- Pottery creator of eclectic works in earth art.
Fancy Plants- Air plant terrariums and delicate succulent pottery arrangements.
Dirty Garage Accessories- Upcycled hand crafted custom pieces created from garage floor leftovers.
Stampthings- creating lasting memories on hammered metal cuffs, rings and earrings.
Aislinn's Artwear- A young amazing individual that designs and creates unique essential oil bracelets and donates a portion of the cost to local charities.
MJ Custom Metal- Metal design and fabricating. Creative and fantastic to work with.
ROAM Gallery- an online pay to show gallery that works with emerging artists based in Sarnia.