Since its founding in 1933, Goodwill has always been focused on the needs of the community. "Our mission is to change people's lives through the power of work, and we've been doing this for 85 years," explains CEO Kevin Smith. To mark their 85th anniversary, Goodwill recently published a history of the organization entitled, Self-Respect, Ambition and Hope: The Story of Goodwill Industries – Essex Kent Lambton. The book was a labour of love for a group of five authors. Goodwill Board President Dave Watson worked alongside Steve Lane, Laura Greaves, Darren Hakker and Tanya Smith. "This group learned so much about the history of our organization when they sat down to put this book together," explains Smith.
The very first Goodwill was started in Boston, Massachusetts by Reverend Edgar J. Helms in 1902. "It was during the height of the Great Depression that Goodwill formed in Sarnia. In 1933, a group of individuals met in the basement of the Central United Church, at 220 George Street in downtown Sarnia, to offer assistance to help local families. The group was led by Grace Menzies, a nurse who wished to help the needy in the community." Menzies was fortunate to have an active board of volunteers, including T.O. Edwards, Alice Peters, Ruby Hunter, A. Wheeler, W.F. Pierce, John Cowan Sr. and O.K. Lawson. Lawson was the former President of the Ottawa Goodwill who had relocated to Sarnia along with her husband, a bank manager.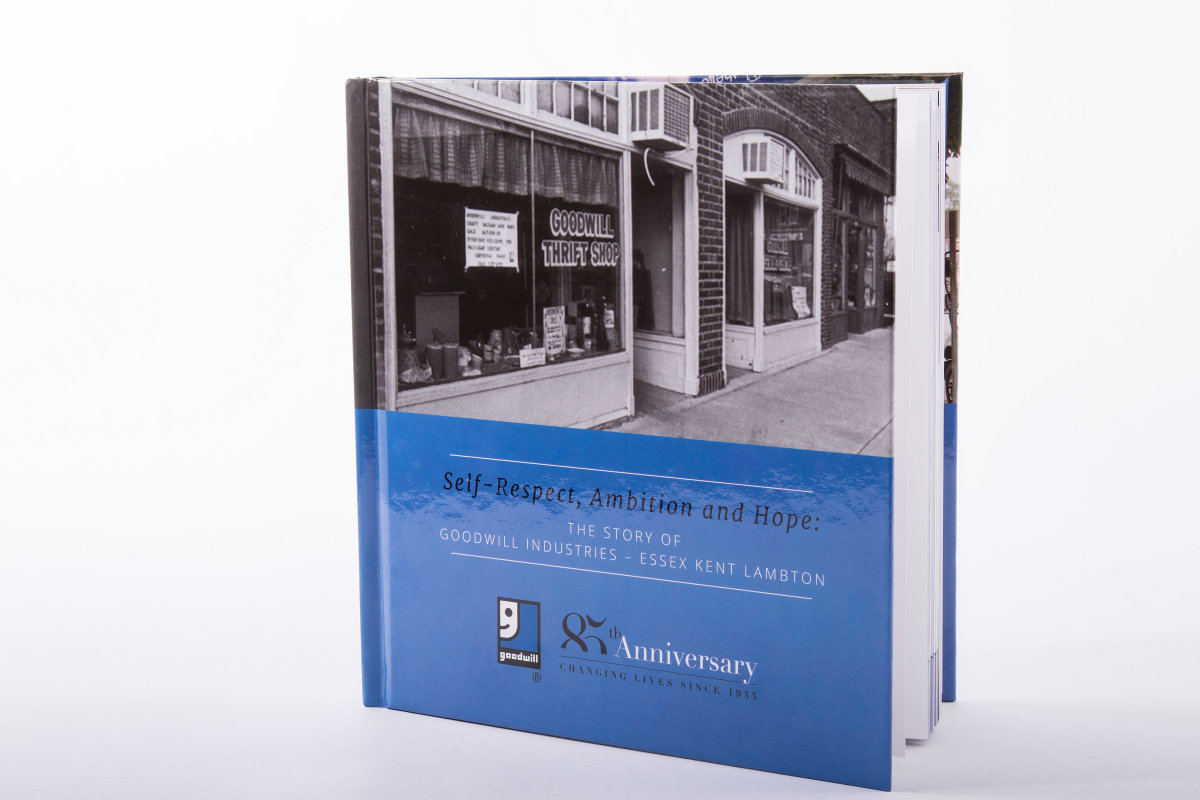 "While they were putting together the food hampers, they were discussing other solutions to the problems they saw. Many people survived because of the soup kitchen, but this wasn't sustainable. They wanted to do more," Smith explains. One of the ideas that resonated with them was what Helms was doing in Boston: collecting goods, repairing them and selling them. "They took on this new project in Sarnia. They understood that by creating jobs, they were also giving people self-respect, ambition and hope – and that's how they came up with the title of the book."
In 1934, they adopted the name Sarnia Goodwill Industries, and then in 1936, Helms came to visit Sarnia. "He spoke at the Riding Club about the important work that Goodwill organizations across the continent were doing. The Sarnia Observer covered his visit in great detail, so we had an excellent record to look back on." The first Goodwill store opened at 176 Victoria Street, before relocating downtown to Christina Street and then to London Road. There is currently a Goodwill store at 1307 Michigan Avenue in Sarnia, as well as stores in Chatham and Windsor.
To celebrate their 85th anniversary, Goodwill will be holding an upcoming Business After Five event at the Riding Club. "We want to honour that history." To launch the book, Goodwill partnered with Brad Kowatiuk at Home Depot to create beautiful, hand-made bookcases. The book is currently available at all Goodwill retail locations. "We are very excited to be celebrating this anniversary and sharing our history with the community."