Tristan Bassett and her friends at NuSarnia Foundation have a vision for the city they love to be an even better place. And they are willing to take the time and energy to see things improve. "The group at NuSarnia are community advocates; champions for creating a more active transportation-friendly space in Sarnia," Tristan shares. A more transportation-friendly city provides space for different types of mobility – walking, cycling, better public transit, and cars. "It is a massive undertaking, but we've got a big vision for what we hope Sarnia will look like in the next 10-20 years and to get there we will bite off small pieces and make incremental changes."
NuSarnia Foundation is the brainchild of its two co-founders; Sarnia residents Ben Prins and Paul Eastman. Both Ben and Paul both value walking and bicycling as a mode of transportation, and they have seen the city, infrastructure, and culture change. "Ben and Paul started having conversations about their experiences and ideas and I met them through a mutual friend," Tristan says. "Once I heard their ideas, I thought, 'This is great! I'm going to raise my kids here and this will be awesome for the next 20 years.' We all believe that Sarnia is the perfect canvas to become a transportation-friendly city."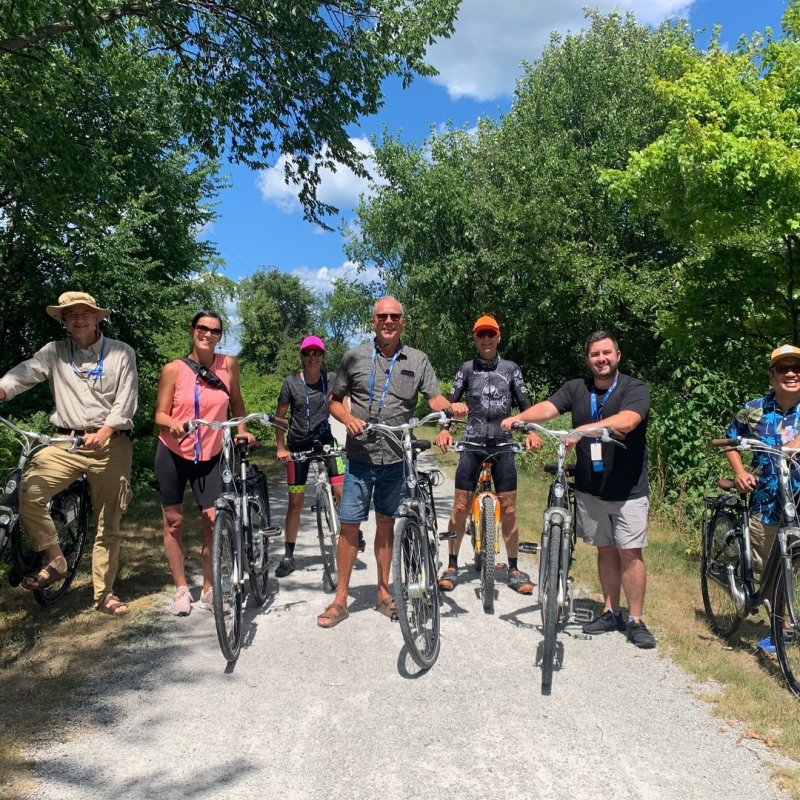 In the summer of 2022, not-for-profit NuSarnia Foundation was established. The team quickly set out to chip away at small changes that could have a large impact on the way people live their lives. One of their first projects was to assess the safety and comfort of using current bike lanes in Sarnia. "As a recreational cyclist, I like to take my two biking but I can't say that I'm comfortable with my young kids on the roads as they are right now.  For instance, Colborne Road leading to Cantara Park has a bike lane – a white painted line on the side of the road with vehicles driving by, but it still remains a very busy street.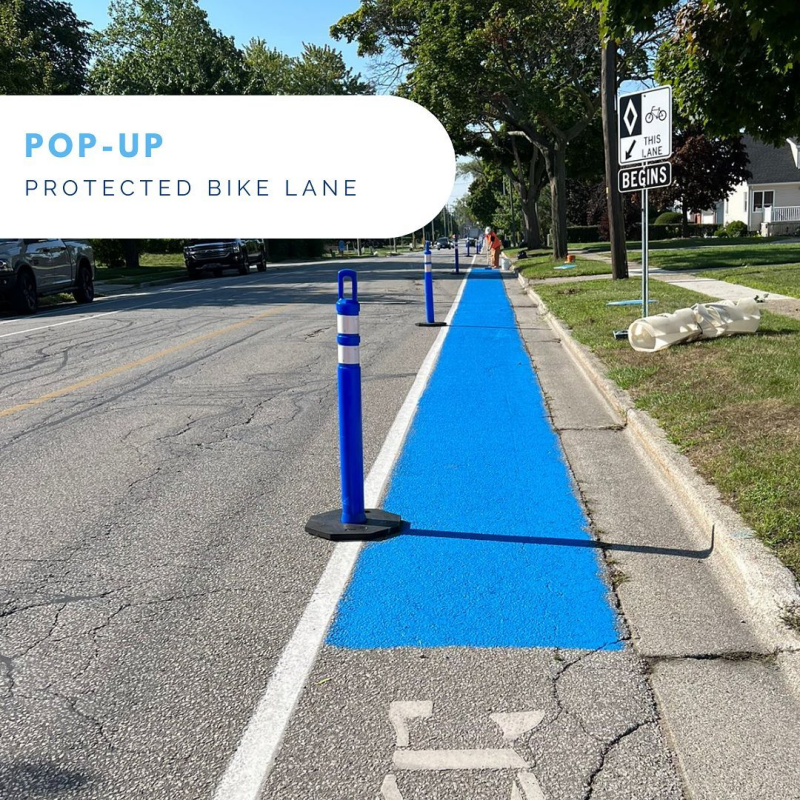 Other cities protect their bike lanes with things like large flowerpots. "We feel Sarnia can move in this direction," Tristan explains. To trial this, a group of volunteers put four-foot tall construction posts along a stretch of bike lane on Colbourne Road and painted the lane blue. "This makes the land stand out and provides some barrier against vehicles." Afterward, the volunteers did a series of data collection and surveys. "We asked people if they enjoyed the bike lane, did they feel safer, and would they be more likely to use the bike lanes or let their kids use them," says Tristan, "It was a temporary popup that allowed us to start the conversation in Sarnia around improvements to help the city."
NuSarnia's long-range vision is to become a community hub that empowers others to take on projects like the bike lane. "We don't want to be the only ones doing this," Tristan says. "We plan to lead by example and encourage other people to take on projects like this in their own area."