Chris Lindsay loves counselling and therapy. "After 25 years, I still find it very interesting," shares Lindsay. "I'm fortunate to have a career that will keep me interested, even if I practice until I'm 95. Each person is so unique, and therapy itself is always evolving, so there is always more to learn." Lindsay graduated from McMaster University in 1991 with a degree in Social Work. After several years of working in community development and street outreach in downtown Hamilton, Lindsay discovered psychotherapy. "I got into therapy for myself. Not only did it help me, but it completely changed my career direction. I found therapy magical and knew what I wanted to do."
Two years later, Lindsay graduated from the University of Toronto with a master's degree in Counselling Psychology. Over the next 16 years, he worked in a variety of counselling settings, mostly in the Hamilton and Mississauga/Brampton areas. In 2014, Lindsay and his wife Alison decided that Sarnia would be a better place to live and raise their children. "We would visit my parents, go for a walk in Canatara and say to each other, 'Wouldn't it be great to live here?' Finally, we decided to just do it. It was a great decision."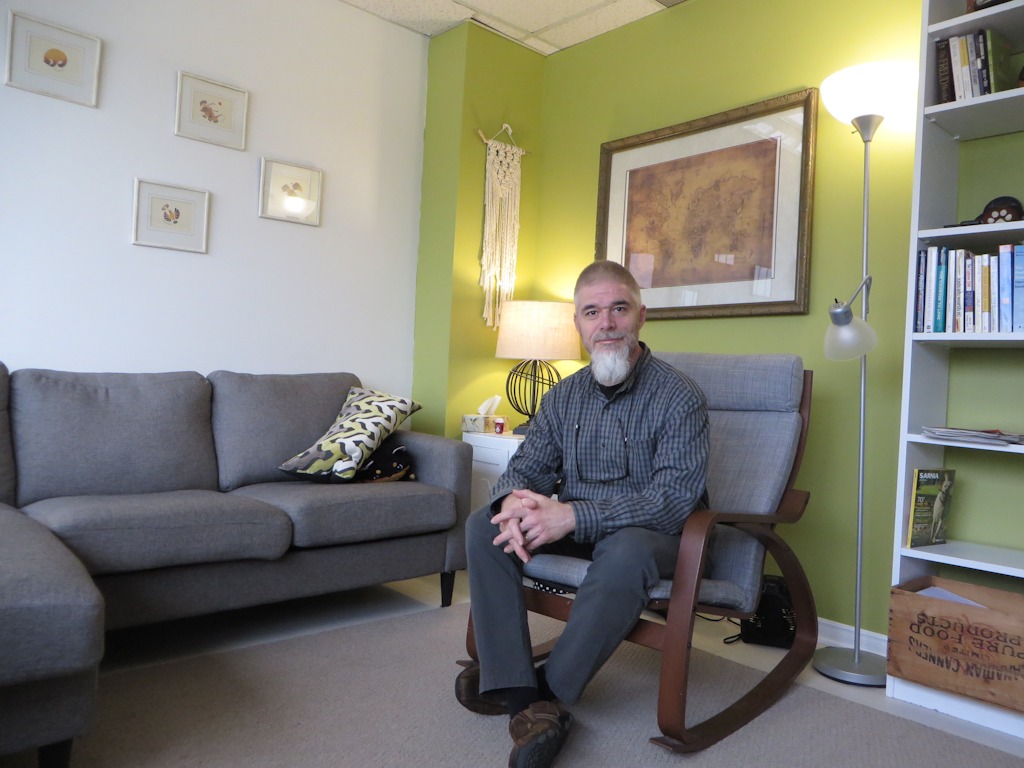 A job at St. Clair Child and Youth Services (SCCYS) provided the opportunity to return and become reacquainted with his home community. "I'm grateful to St. Clair Child and Youth Services. They're good people, and do so much to help kids and families in Lambton." While working for SCCYS, Lindsay gradually built up his private practice on a part-time basis. In September of 2019, he took the plunge and moved to full-time private practice, operating out of the office building at 805 Christina Street North. "For years I've heard the same advice: get a niche; specialize. That certainly works for lots of therapists. I've tried, but it's just not me. I like working with people of all ages and walks of life. I enjoy helping with all kinds of concerns and problems."
Anxiety and trauma are the most common reasons people come to see Lindsay. Depression, ADHD, and grief are also well represented, as is parenting kids with disruptive behaviour. Lindsay has practiced and developed skills in many different kinds of counselling and therapy, including Eye Movement Desensitization Reprocessing, Cognitive Behavioural Therapy, and Emotion Focused Therapy. "One of the best parts of living and working in Sarnia is our Indigenous neighbours." Lindsay works with Indigenous people, both on- and off-reserve.
"There are areas in which my knowledge and experience are limited. I'll let people know that up front, so they can make an informed decision." Lindsay believes that the relationship with a therapist is more important than fancy techniques and extensive knowledge. "Sometimes it's better to go with a therapist who you feel a good fit with. That's not always me, but there are some great therapists in Sarnia, and I'm happy when someone finds the help they need, no matter who it's with."