When Dave and Leanne Kember bought UniglassPlus/Ziebart, they knew that they were taking over a successful business. "We bought the business in 2013," Dave explains. "We owned TJ Trailers, and did hitches and wiring for the previous owner. When he decided to retire, it seemed like a good fit to combine with TJ Trailers." While Dave brought many years of auto-body experience to the company, Leanne brought her management skills. "I've always loved running a business. We decided that it would be great if we got to work together." Their skills complement each other. "Leanne is much more organized than I could ever be. She handles the business side and I handle the technical side," explains Dave.
The business has been located at 1167 Confederation Street since it opened in 1969. In 2007 UniglassPlus took over Ziebart's Canadian operations and became UniglassPlus/Ziebart. "Glass repair and replacement were great additions to the Ziebart services," says Dave. "UniglassPlus offers support and training on all the different ways we can keep your family safe." Their core business remains vehicle protection. "We offer permanent rust-proofing for new and nearly new vehicles, Penetr'oil for used vehicles, as well as paint and fabric protection for all vehicles," explains Leanne.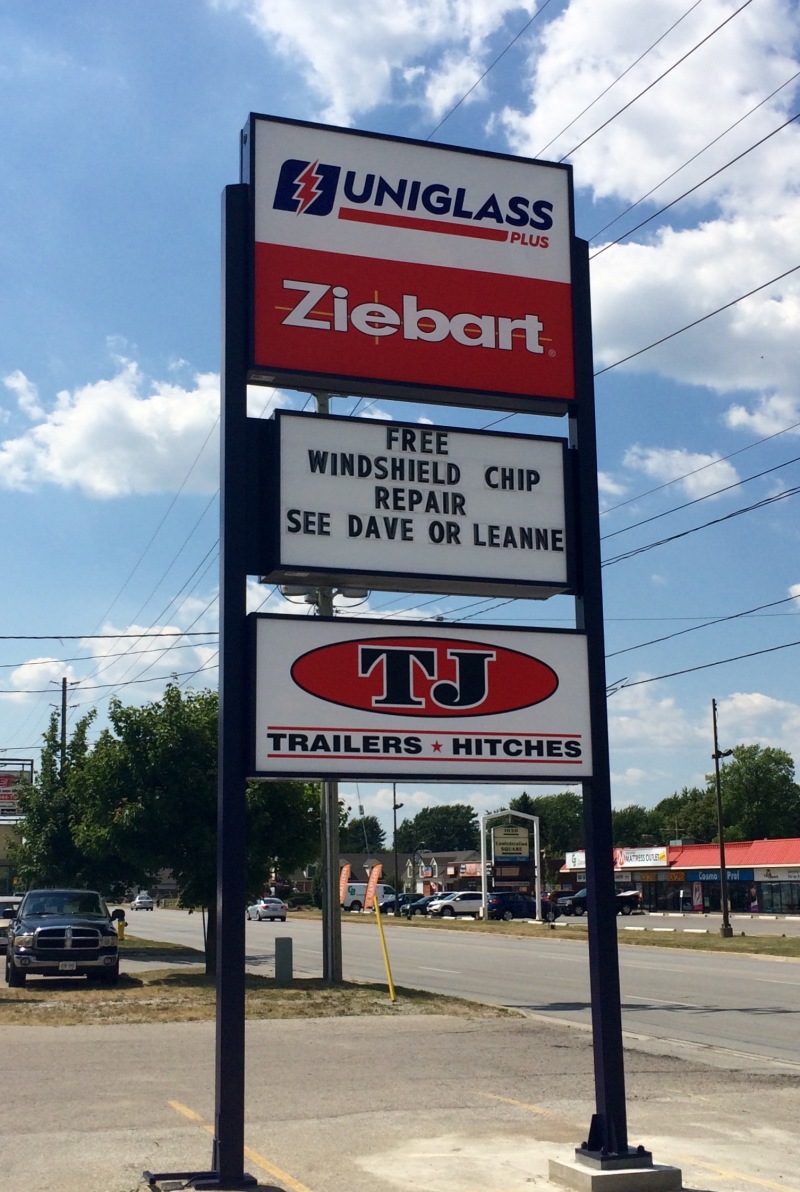 Their primary goal when they first took over the business was to balance their work throughout the year. "We were busy in the spring and summer with hitches, in the winter replacing broken windshields and the fall with rust-proofing. We've added window tinting and RhinoLining sprayed-in bed liners," Leanne says. "There is a market for vehicles with high-end finishes and various accessories in Sarnia and we work directly with customers as well as with dealerships." They also offer Leer toppers, Tonneau covers, step bars and bed slides for pick-up trucks. "We install hitches of all sizes, from bike racks to fifth-wheel trailers, and are experts in brake controllers," Dave adds. "We also do interior and exterior detailing. If it has to do with protection of your vehicle, we offer it." Installing the bed liners has brought them a new group of customers. "It was a big investment for us in the beginning to be able to offer it, but it is definitely paying off," he says.
There are four staff altogether, including Dave and Leanne. "People who have come for trailer hitches or accessories on their work trucks in the past are now coming in to have work done on their personal vehicles. We're starting to see a lot of overlap, which is great. We hope to bring another full time employee on this fall," Dave says. For Leanne, the most rewarding part is seeing the customers come back again. "We have a rust warranty program so we see those customers at least once a year, quite often more than that. We offer a free courtesy shuttle and that's when we learn about our customers' lives. I enjoy the relationships we are building. Now into our third year, I often remember where to drop people off."