For Ashley Smith, yoga became more than a practice. It became a lifestyle. "It was only three and a half years ago that I started yoga," says Ashley, who now owns and operates The Raven Heart, a Sarnia-based healing sanctuary that offers yoga and meditation among other holistic services. "Our daughter had been sick for a few years and my mental health was declining and I was at a point where I knew I had to make some changes in my life. After working out at a local gym for a few months I felt a calling to explore yoga." After one practice, she knew this was a deeper experience for her. "From that practice, I went into a six-week beginner series and within three months I was in Yoga Teacher Training, which then lead me to become a Reiki Practitioner."
Ashley began teaching yoga while still working at The Woods Hair Salon, a business she and her husband Tyler opened over 6.5 years ago. A few months after the pandemic started, she began leading small groups and kids yoga in Sarnia. With her sights set on making yoga into more than a practice but a lifestyle, she and a friend she met in training, Cassy Jablecki began to plant the seeds of The Raven Heart. Ashley registered the business last March and opened up The Raven Heart studio at 500 Exmouth Street, Sarnia, right beside The Book Keeper.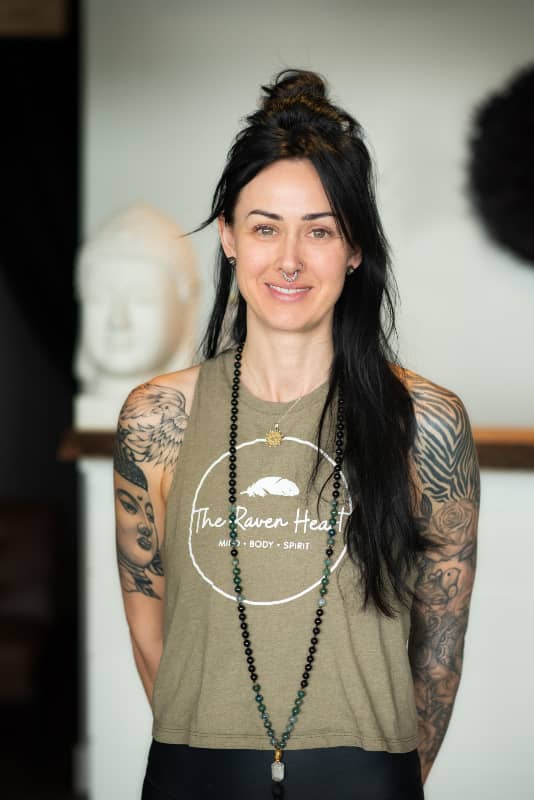 "I want to share yoga and meditation with others for them to receive experiences as I did. For others to know the healing benefits that they have on our overall health – mind, body, and spirit – and how we can also train the body and mind to heal itself," Ashley says. "At The Raven Heart, we want people to know that it's a safe space for them to begin or continue their healing journey, or to just explore their practice in a group setting. A beautiful community is growing within The Raven Heart and the love and support we have received we will forever be grateful for. The feedback I get brings tears to my eyes."
In addition to yoga classes, The Raven Heart offers the very popular Restorative Hair Bath; something Ashley created when she was at The Woods. "I wanted to be able to give the experience of the salon, enjoying the head massage, but still being able to restore the body." The Restorative Hair Bath is a one-on-one treatment that includes essential oils and begins with breathwork followed by meditation to allow the mind to calm. "This allows us to come back to the body and the breath. I offer 2 options for this treatment, one that includes reiki healing. I go through a five-step head massage and we really work on releasing old patterns that don't serve us anymore. It is a very calming and relaxing experience bringing the body back into homeostasis."