Katie Pearse is hoping to clean up – literally! – with her new Sarnia-based business. Katie, who is 42 and a relative newcomer to Sarnia, started Glimmer Cleaning Co. in December of 2021 and she is hoping to have the same kind of success she enjoyed for eight years when she operated a similar cleaning business in Edmonton. "Out West, our company cleaned for all the (NHL) Oilers – people like Conner McDavid," Katie says. "We are talking about people whose homes are featured in Architectural Digest, so my standards are insanely high. I don't clean myself, but I totally trust my staff more than I trust myself. They are very, very good at what they do."
Katie wasn't always in this particular industry. Rather, she worked in the corporate world for many years before transitioning into the cleaning industry. "I was getting pretty bored with my job in marketing," Katie says. "At the same time, I was looking for a house cleaner because I was so busy with my job plus, I was working at a pool coaching swimming. I tried different business and independent cleaners, but I was disappointed in their work. I had a friend who was looking to start a new job and I said to her, 'Why don't you go into cleaning? People will pay quite a bit for a good cleaner.' We decided to work together and because of my marketing background I was able to help her find customers."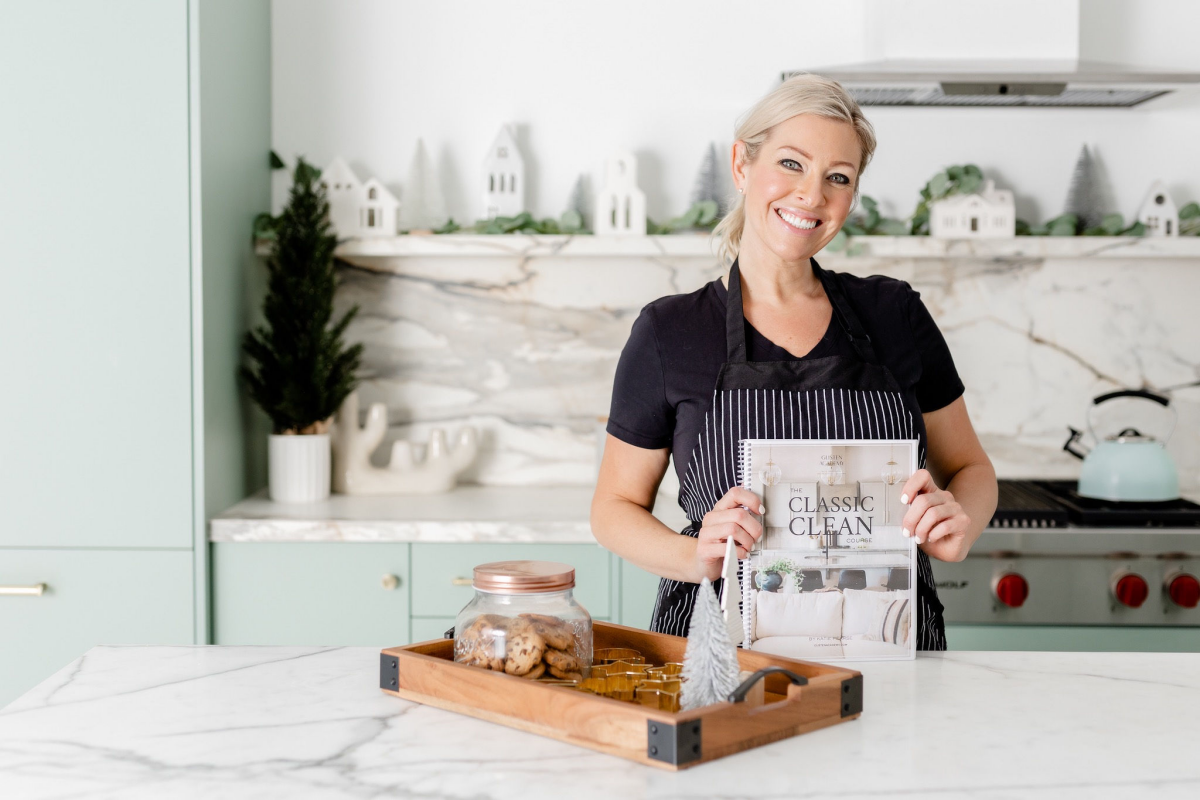 Katie is the first to admit house cleaning was a foreign activity to her. "I grew up in a house where I wasn't made to do chores, so I really didn't know how to clean." However, she was a quick learner and eventually opened a consulting business to teach other cleaning companies how to operate most effectively. Katie and her business partner decided to go their separate ways after eight years and following a year in California at the start of the COVID-19 pandemic and then a short stint in Barrie, Ont., she and her husband moved to Sarnia and welcomed their first child, daughter Alexandra, a year ago.
When a local business called Hart and Home announced it was shutting down, Katie offered to purchase its client list, which she did, and renamed it Glimmer Cleaning Co. Glimmer specializes in home and commercial cleaning and Katie is the first to admit she has high expectations of her staff. "Everybody thinks, 'How hard can it be to clean?' " Katie says. "But cleaning professionally versus cleaning your own house is different. People are paying good money and they have high expectations. I am selling something, and my staff has to deliver that. When I came in, I gave everybody a raise. I pay probably the highest wages in residential cleaning in Canada because I believe it is important to make cleaning a respected profession." The industry remains female-dominated, and it's important to Katie that her staff are not taken advantage of. "I want everyone to be paid well and I want them to stick around. That's how you build a strong company."
Glimmer Cleaning Co. offers both ongoing cleaning arrangements (monthly or bi-weekly), along with one off cleaning. Their cleaning services include everything from thorough bathroom and kitchen disinfecting to tidying up and shampooing carpets. For a full list of their services, or to book a cleaning consult, visit Glimmercleaning.ca.