Shaun Antle insists he has a great working relationship with his business partner, Tara. That's a good thing considering Shaun and Tara are also husband and wife! The dynamic duo runs Corunna's Co-operators, a satellite agency to Sarnia-based Fabien Jagoo and Associates Inc. They delight in serving St. Clair Township as a team.
"I started in 2009," says Shaun. "I joined Co-operators in 2010, and Tara joined us shortly after in 2012. Tara's been in the business since 2006." While Shaun was working for Co-operators, Tara was working at a brokerage. "It didn't make sense for us to be working for different insurance companies," Tara says, "so I decided to merge over to Co-operators." Over the years, Shaun's goals have changed in a large part because he values the opportunity of working with his wife and because of the autonomy their owner (Fabien Jagoo) provides the couple. This year marks their 10th anniversary in Corunna. Since opening, the Antles have evolved from representing about 87 households to over 700.
Both Shaun and Tara feel it's important to promote and be a part of their community. "At the beginning, I wore expensive watches and three-piece suits, but it wasn't who I was, nor who I wanted to be," Shaun says. "In a small town like Corunna, it's not the materialistic mindset that builds trust, it's connecting on a personal level with the people of the community." Tara also knows the benefit of being grounded in the community. "I don't want my clients running away from me at the grocery store. I want to be able to talk to and know them beyond their policy numbers."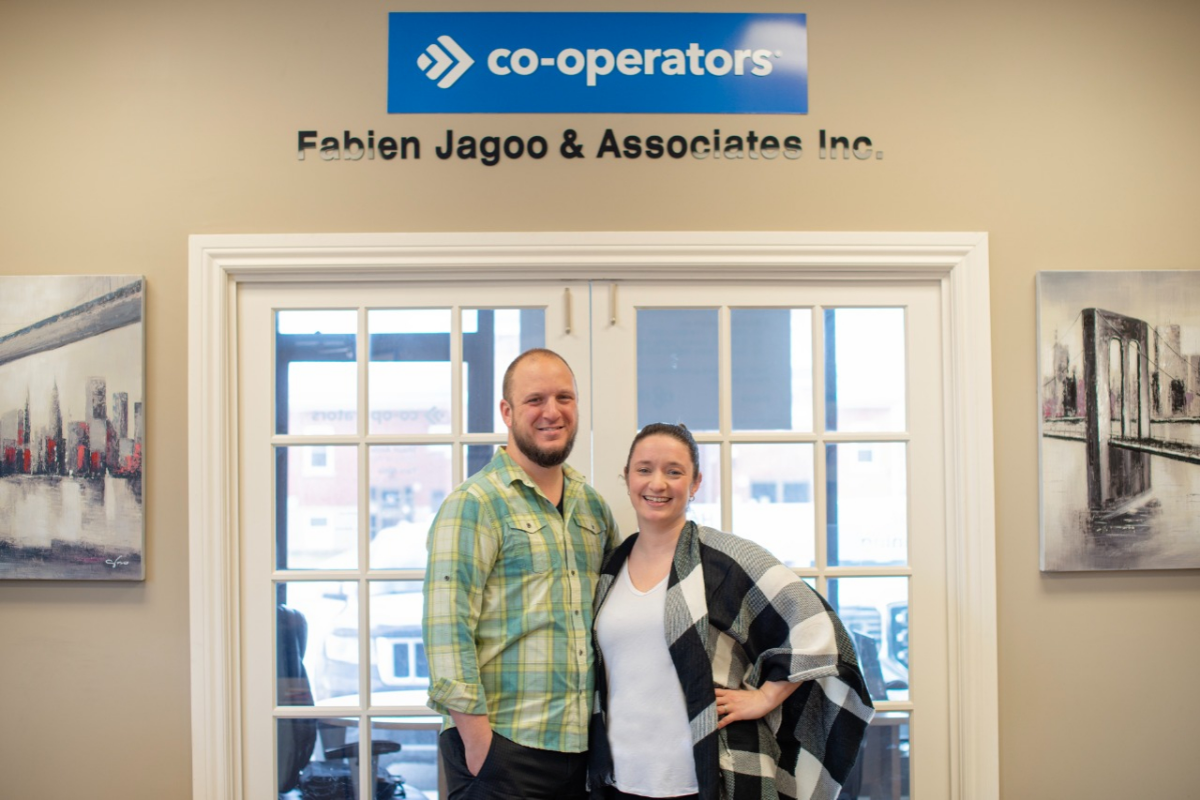 Shaun recently had a client contact him after hours. "At the end, he thanked me and said he was sorry to bother me on the weekend, but my availability is one of the reasons he deals with me," Shaun says.
The couple believes their solid partnership gives them a leg up in the industry. "There are a lot of advisors," Shaun says, "however, there are not many husband-and- wife teams. That is something that we feel appeals to the community. Where one lacks, the other fills in the gaps, it's how we operate."
Shaun recently completed two years of education through Advocis, the Financial Advisors Association of Canada, obtaining his Professional Financial Advisor Designation. He adds this to nearly 14 years of experience and his industry-standard Life License (LLQP). "My experience and education give me the tools required when it comes to advising and providing a holistic approach for clients." Tara currently holds her Other Than Life License and specializes in Home, Auto, Commercial/ Non-Profits, and Farm insurance. With nearly 17 years of experience, Tara is well-equipped to provide her clients with the necessary professional advice they need. With over 30 years of combined experience, this power couple not only enjoys what they do but believes they are thriving thanks to the support of their local community and its surrounding area.