Nick Nassiokas is a man with a plan. In 1971, Nick arrived in Sarnia seeking a better life for himself. He came with the strength and courage needed to "make it" in Canada. Soon after arriving in Sarnia from Greece, he knew that one day he wanted to own a business of his own. His dream came true in 1976 when he took over from the previous owner, Cosmo Longo and bought Cosmo's Family Restaurant. "I love every minute running my restaurant and purchasing Cosmo's gave me a chance to invest in myself, my wife Cathy and our then 5-month-old daughter, Vicki," says Nick, now 72-years-old. "When I took over Cosmo's, my focus was to offer high quality and affordable Italian cuisine in addition to a unique family dining experience where everyone felt welcome."
Cosmo's Family Restaurant is one of Sarnia's oldest businesses, having changed locations three times over the years. Cosmo's has been in its current location at 181 Capel Street since 1967. Nick is the first to admit there was a learning curve when he took over Cosmo's, but he was up for the challenge. "The first few years were hard because I had no experience at running a business," Nick says. "I was working up to 16 hours a day. But after a few years, things started to run smoothly." Nowadays Nick begins his day with making the sauces for his pizzas and pastas, including his famous lasagna, a popular favorite among the restaurant's frequent patrons. He also makes the dough for his pizzas and melt-in-your-mouth buns. "We are especially known for our lasagna and buns," Nick says.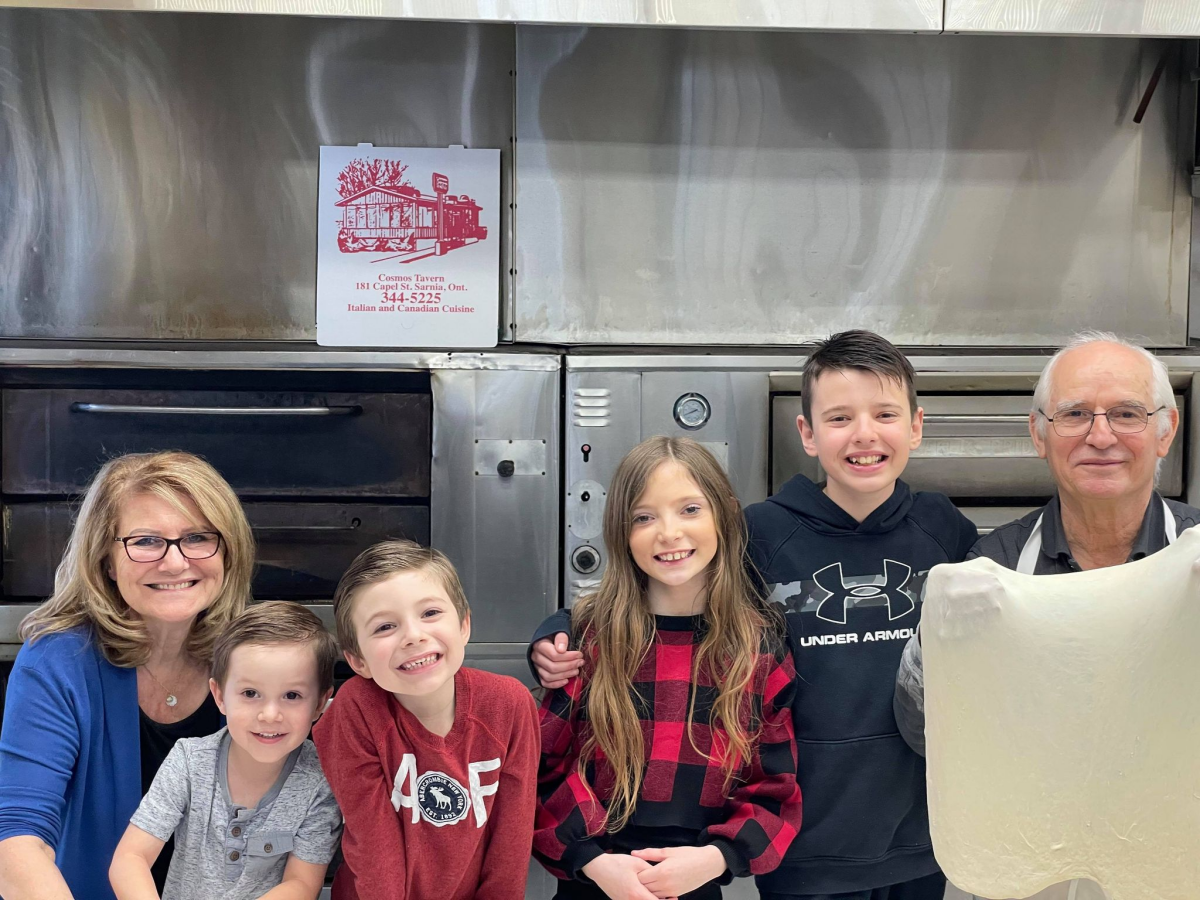 "Ours is more of a mom and pop operation and that's the way we like it. It's a place where everyone feels welcome. It's a comfortable atmosphere – a friendly family environment. It's not fancy, but it's very comfortable." Nick's wife Cathy raised three children which allowed Nick to tend to business, but with the children grown, she now helps in the day-to-day operation of Cosmo's. She works the front of the restaurant while Nick takes care of the kitchen. Fortunately, the pandemic didn't drastically threaten Cosmo's. "We were about a 50 percent takeout business prior to COVID so we actually were very fortunate to already have that plan in place," Nick says.
Cosmo's was and continues to be committed to the local community. In 2020, Cosmo's supported The Inn Of The Good Shepherd, St. Joseph's Hospice, a fund for the Children's Aid Society, a fundraiser for a local basketball association, and donated to the Kinsmen Club of Sarnia. All of that was in addition to making many meal donations to frontline workers. In early 2021 Cosmo's won the Sarnia Community Votes platinum award for best restaurant and got a gold award for finishing second in best pizza category. Nick, who whistles nonstop while working, says he has no plans to retire. "I love this place so much."