The Sarnia Historical Society is doing their part to preserve local history. First established forty years ago, the volunteer-run organization sat in limbo for a number of years before the newest group of community leaders stepped forward. Ron RealeSmith, Laura Greaves and Phil Egan were appointed to the Lambton Historical Society in 2014 and used that opportunity to discuss the status of the Sarnia group. "We didn't know each other beforehand, but we decided to explore this opportunity knowing the diverse skillset that we brought to the table," says RealeSmith. Since then, Emily Potter and Stefany Jamieson have joined the board.
Prior to 2014, the Historical Society had operated a museum on Davis Street. When the museum closed, all of the artifacts were sent to the Lambton Heritage Museum in Grand Bend. "We tracked down the two remaining board members and we reached out to them." RealeSmith, Greaves and Egan met with Robert Mathers and Ron Deacon to discuss the status of the society. "Phil's wife Laurie made everyone cucumber and salmon sandwiches, which they loved. When the meeting was over, they handed the organization to us and then stepped down," explains RealeSmith. "They were happy to see someone revitalize it."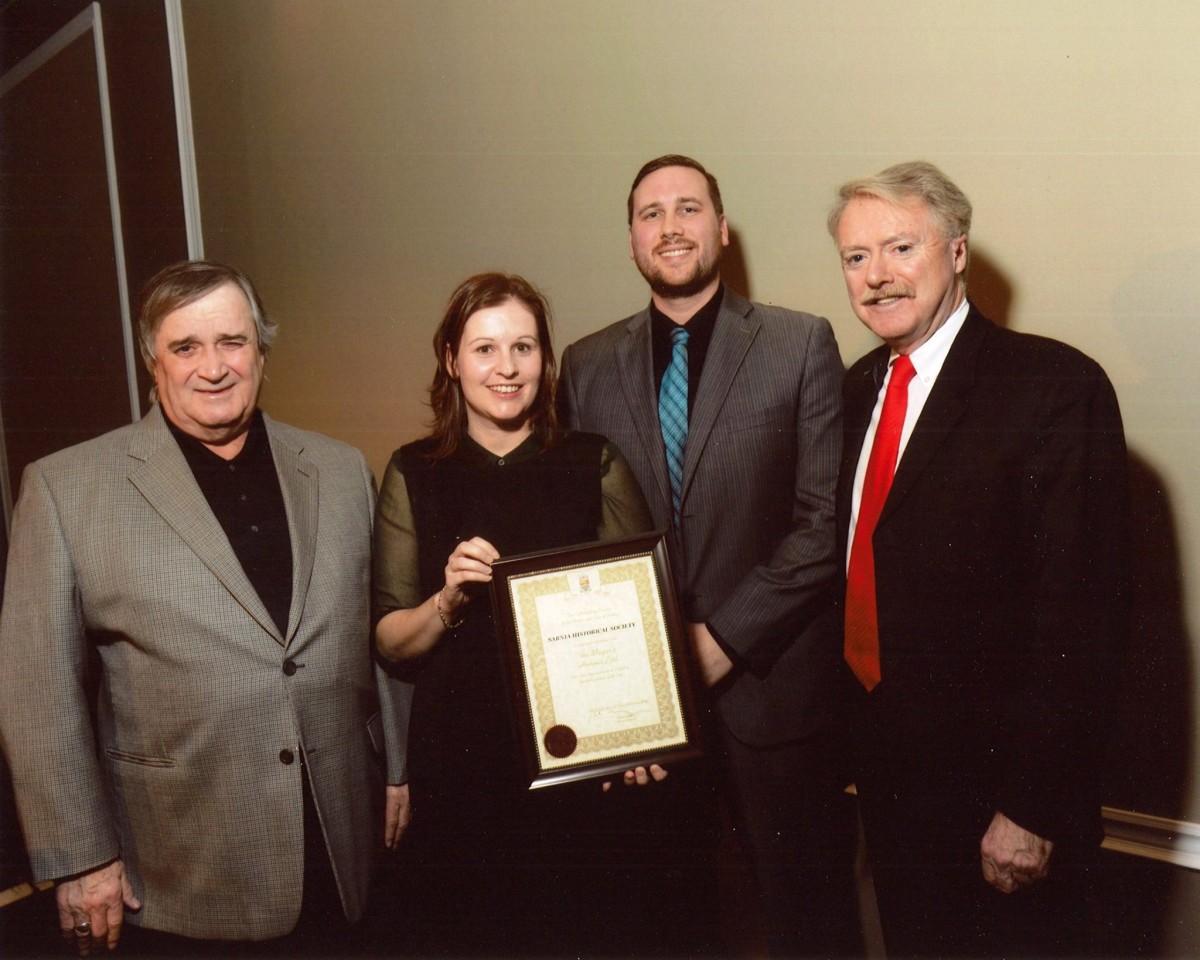 The new board members decided their best approach would be to focus their initial efforts on creating a website, www.sarniahistoricalsociety.com. "The idea was to take historical artifacts, including old newspaper stories, and present them on the website. The local papers jumped on board and allowed us to reproduce them." For a period of six months, the group gathered the materials needed for the website. They also helped produce the Then & Now edition in conjunction with the Sarnia Journal. "We received a lot of positive press when we launched the website. It helped that it was at the same time that the Journal piece came out." There are currently more than four-hundred stories on the website. "We've now scanned Dave Burrell's postcard collection, which has been a huge hit." The best way to keep in touch is to sign up for their email newsletter on the website.
In January 2016, the trio were named to the Mayor's Honour List. "We had launched in September and the recipients were announced in February. It showed us that people in Sarnia are interested in and appreciate local history." This local support is evident at the monthly meetings. Greaves organizes the speakers each month. "Laura has found some diamonds in the rough. We've had some really amazing presentations and discussions around different aspects of our local history." The group currently hosts their meetings at the Royal Canadian Legion on Front Street. "We have built a strong relationship with Legion Branch 62. This culminated in the first annual TurnerMoore Vimy Dinner." The event brought together 200 people to celebrate one of the most important battles of the First World War. "We look forward to hosting many more events. This was our way of highlighting an important piece of history and of honouring our local heros."