Sisters Lisa Ladouceur and Melissa Matthews think working together fulltime in a business they are passionate about while doing their part to save the planet is a pretty good deal. Co-owners of the Sarnia-based Great Lakes Refill Co., Lisa and Melissa's store specializes in zero-waste bulk foods, personal care items and home supplies. "Both Melissa and I were on our own zero-waste, minimalist journeys," Lisa says. "Just seeing the amount of waste there is in the world and constantly reading news stories about waste overwhelmed us. I told Melissa I thought it would be a great idea to open our own refill store. Neither of us had ever run a small business, but we decided to take a leap."
Prior to opening the store, Lisa worked at Lambton College as a financial analyst while Melissa worked as a Child & Youth Worker with Big Brothers Big Sisters. "I had no business experience whatsoever," Melissa says with a laugh. The sisters set up shop in a small downtown market where Great Lakes Refill Co. took up 96-square-feet of space at the outset. "People just loved it from the get-go and eventually we grew to 120 square feet," Lisa says. A year later Lisa and Melissa moved out of the market and opened their own brick and mortar store at 454 Christina Street North. The new location offered the space to build the store around their personal brand, and 10 times the square footage!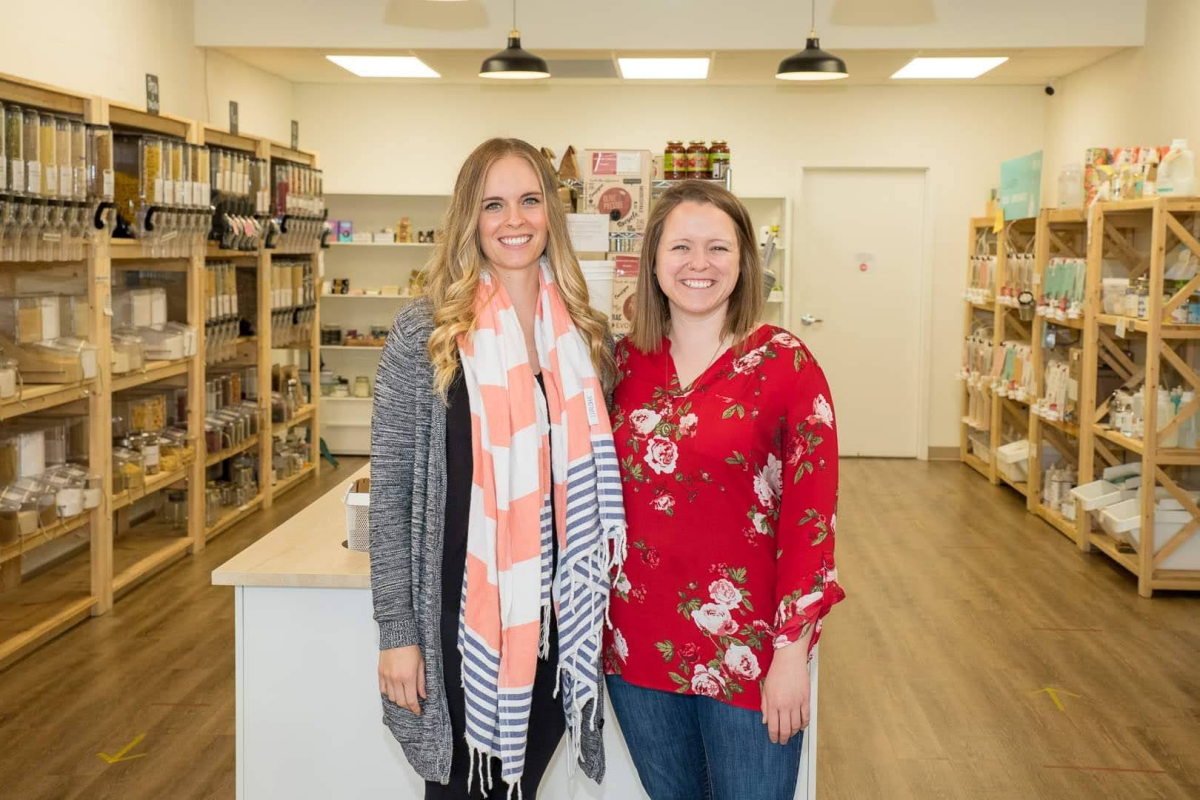 Great Lakes Refill Co. offers a one-stop, eco-friendly shopping experience with more than 700 products available. "Customers don't have to bring in their own containers, but we highly recommend people make an effort to do that," Melissa says. The Bring Your Own Jar program does require containers to be clean and dry in order to be filled. "We do have other options in the store from our Mason jar program where the customer pays a deposit fee to borrow a jar to be filled to free jars that customers have donated." Containers are weighed upon entering the store, and deducted from the total weight of the purchase when it is time to pay.
There were initial challenges for the sisters to overcome. "Establishing relationships with distributors and bigger companies was a big one," Lisa says. It can be difficult to make your voice heard, as well as establishing minimum orders. Over time this has become easier. Great Lakes received wonderful reviews from the community and business boomed. Then came COVID-19. "Things were rolling along nicely and then low and behold we had to close the store five months later," Lisa says. "We closed for a day to reorganize ourselves and then started doing appointment-based sales as well as phone orders." Great Lakes Refill Co received a Digital Mainstreet Grant for $2,500 that was used to build a webpage and establish an online ordering system. The store was able to reopen its doors to the public in the summer of 2020.
While 2020 proved challenging, Lisa and Melissa continued to be thrilled with the direction of their growing business. "We are trying to make a change and every day we come up with new ideas that help the planet."