Justine Goulet grew up on the shores of Lake Huron. Her family had a boat at Cedar Cove Marina, and in the summers that is where she spent a lot of her time. "I would go swimming and wakeboarding everyday. For me, the lake is life." Goulet was also passionate about art and theatre, and she knew from a young age that she would work in the arts. In 2012, she completed her Bachelor of Fine Arts in Performance Production at Ryerson University and apprenticed at Canada's National Ballet School in the wardrobe department. "Then I moved to Dublin, Ireland and completed my Masters in Philosophy of Performance Art from Trinity College."
When Goulet returned home, she continued working in the theatre industry until she discovered the art of glass fusing. Bonnie Doone Glass, in Forest, hired Goulet on as an apprentice. "They were amazing mentors and taught me everything about glass fusing." After two years, the business closed and Goulet decided to establish her own space for creating custom glass pieces and showcasing other artists. "The vision was to have a combined storefront and studio space so people could see things being made and speak with the artist. I was also excited to create larger glass pieces like vessel sinks, cabinet inserts, and backsplash panels," shares Goulet.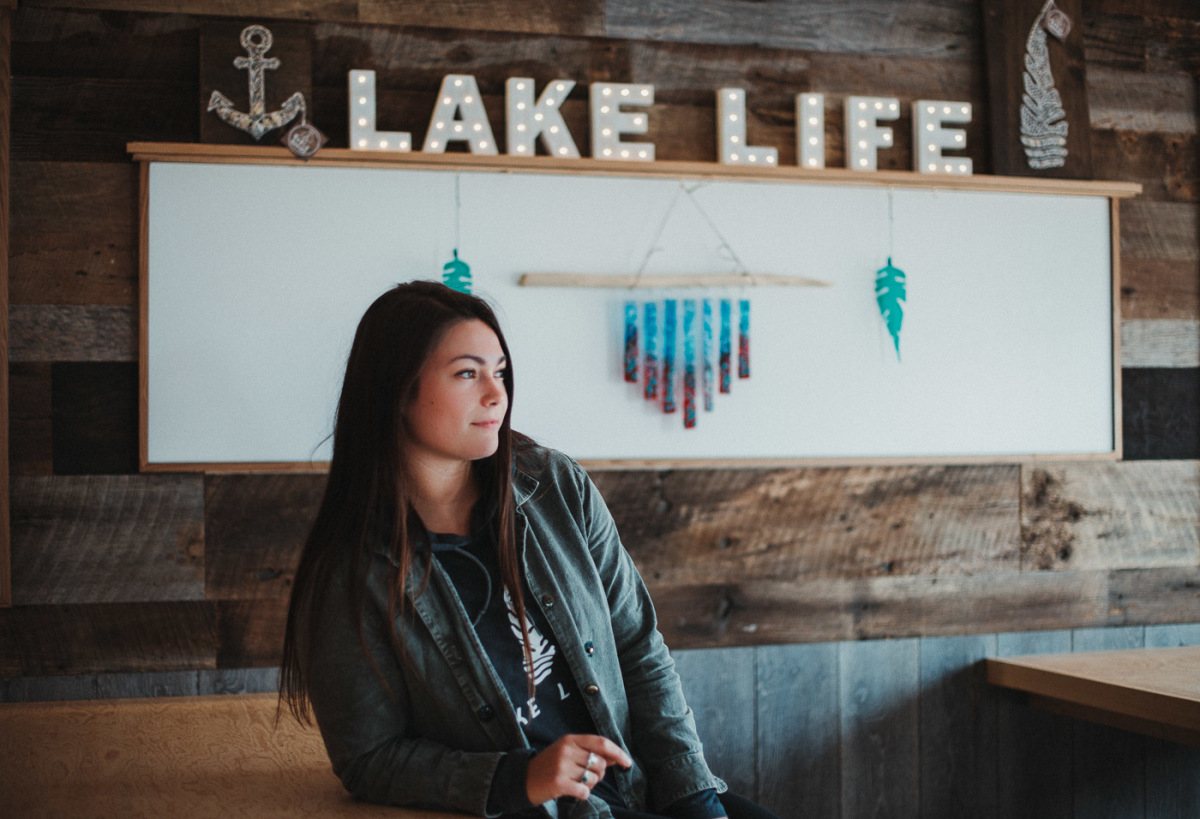 Lake Life Studio, located at 3811 Lakeshore Road in Camlachie, was established in July 2015. The studio sells pottery, art, jewellery, decorative items, and apparel, all with a lake or beach vibe. "We are not just a shopping experience. You can explore my studio space and see what I'm working on. You can book a glass fusing workshop for yourself or a group of friends, and you can meet the different artists as they drop off their products." Collaborating with makers and clients is the most exciting part of owning her own business. "I've met so many sweet people. We work together and help each other, but we also have wine on Saturday nights."
Everything in Lake Life Studio is handcrafted, with the exception of the apparel line, though those are screen printed locally. "The apparel line began with two styles of shirts consisting of my hand-drawn designs, but has expanded to different types of clothing and accessories." It wasn't until 2017 that the feather logo and branding came together. "Three percent of our apparel sales go to the Lake Huron Centre for Coastal Conservation. They are committed to protecting and restoring Lake Huron's coast and coastal ecosystem. I love the lake and I want to be a good steward, so donating a portion of our apparel sales felt right."
Lake Life Studio is celebrating its fifth anniversary this year. Lake Life Studio also sponsors and organizes beach clean ups in collaboration with other businesses each spring and hosts a winter market every December. "We are unique in that we are a working glass studio, retail space and advocate for the lakes. It's a space for creativity, collaboration, and connection while celebrating the lake lifestyle."
For more information visit: https://lakelifestudio.com/
Three editions of the Year of Local have been released. They are available for purchase at
The Book Keeper
. 100% of the proceeds will be donated to the local Sarnia-Lambton charities featured in the books.