KD Exteriors
Construction & Renovation
In 2009, Kevin Downey opened KD Exteriors, located at 140 Russell Street South, specializing in custom windows, doors, siding and shutters. The company started out small with just Downey and his brother selling and installing. "We have grown steadily over the last ten years. We now have four installers and during our busy season that number increases to six. My father is one of the installers, and my wife Kim works in the showroom, so it really is a family-owned and operated business." Downey meets with clients personally to provide a free, no obligation quote. "I'm the sales person and I don't work on commission. I want to make the exterior of a home look good, not sell something the customer doesn't need."
KD Exteriors uses some of Canada's best window, door, and siding manufacturers, including Vinylbilt®, Dorplex, and Mitten® Sentry. Quality control and accountability are important to Downey, so all of his installers are insured with WSIB coverage and all installations come with a five-year warranty. Every window and door installation includes foam-injected insulation to fill any voids, exteriors are caulked with top quality thermoplastic rubber sealant, and interiors are completely finished with your choice of trim, with nail holes filled. "We also remove all waste from the site, explain the products, and ensure the customer knows how to operate them. I want our customers to be 100% satisfied when we leave their home."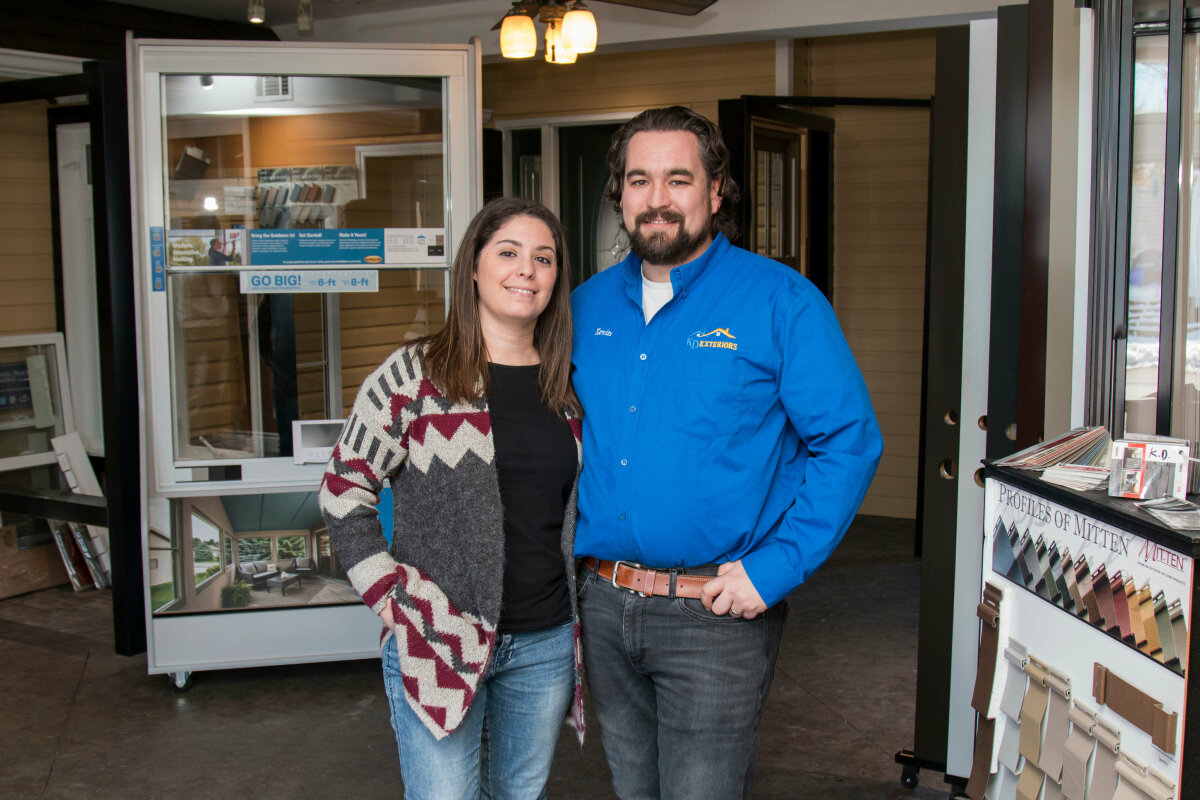 Downey decided to open a showroom so his customers would always know where to find them. "We wanted people to know that we are an established business, and if they want to stop by, that's great. Customers can contact us via telephone, email, or in person. We want to make this process as easy and convenient for the customer as possible." KD Exteriors serves all of Sarnia-Lambton. "There is more than enough work here locally, and I want to focus on our customers here. This is why we have decided to politely turn down work outside of Lambton County."
Downey enjoys meeting customers in their homes so he can see what options and suggestions he can offer. "Some people have done all their research and know exactly what they want, and others are really relying on me to guide them." Downey's years of experience allow him to advise his customers. He wants a window or door to not only look good, but also function well and be energy efficient. "We offer custom windows and doors, so they fit exactly the way they need to. It's important to walk the customer through the technical specifications of the product. I also tell them about all the options, including glass, foam-filled frames, and different coatings." Downey stays informed about new technology and options as they hit the market.
Everyone at KD Exteriors strives for excellence in customer service. They understand that many of their new clients were referred to them by someone else. "We really enjoy doing what we do, and are thankful for every referral and happy customer."
For more information visit: https://www.kdexteriors.com/
Three editions of the Year of Local have been released. They are available for purchase at
The Book Keeper
. 100% of the proceeds will be donated to the local Sarnia-Lambton charities featured in the books.