Francis De Sena Law Office
Francis De Sena Law Firm is celebrating twenty years in business. De Sena opened the practice in 1997. He knew first-hand what it meant to own your own business. His parents had started De Sena Home Hardware in Bright's Grove in the late 1960s after they moved to Sarnia from their native Italy. They also ran a location in downtown Sarnia for many years. When De Sena decided to pursue a career in law, he left Sarnia for his studies, but he always planned on returning. He graduated from Osgoode Hall Law School and worked in Sarnia at another firm before deciding to start his own.
In 2015, Martin Riley joined him as an associate at the firm. Riley had previously worked for De Sena before completing his own law studies. "I worked here between university and law school. I also did my articling here," Riley explains. Like De Sena, Riley also grew up watching his parents run a family business, a construction company. He too left Sarnia to pursue his education. Riley received his degree in political science at the University of Western Ontario and his law degree from the University of Windsor. He completed his articling and was called to the bar in the summer of 2016.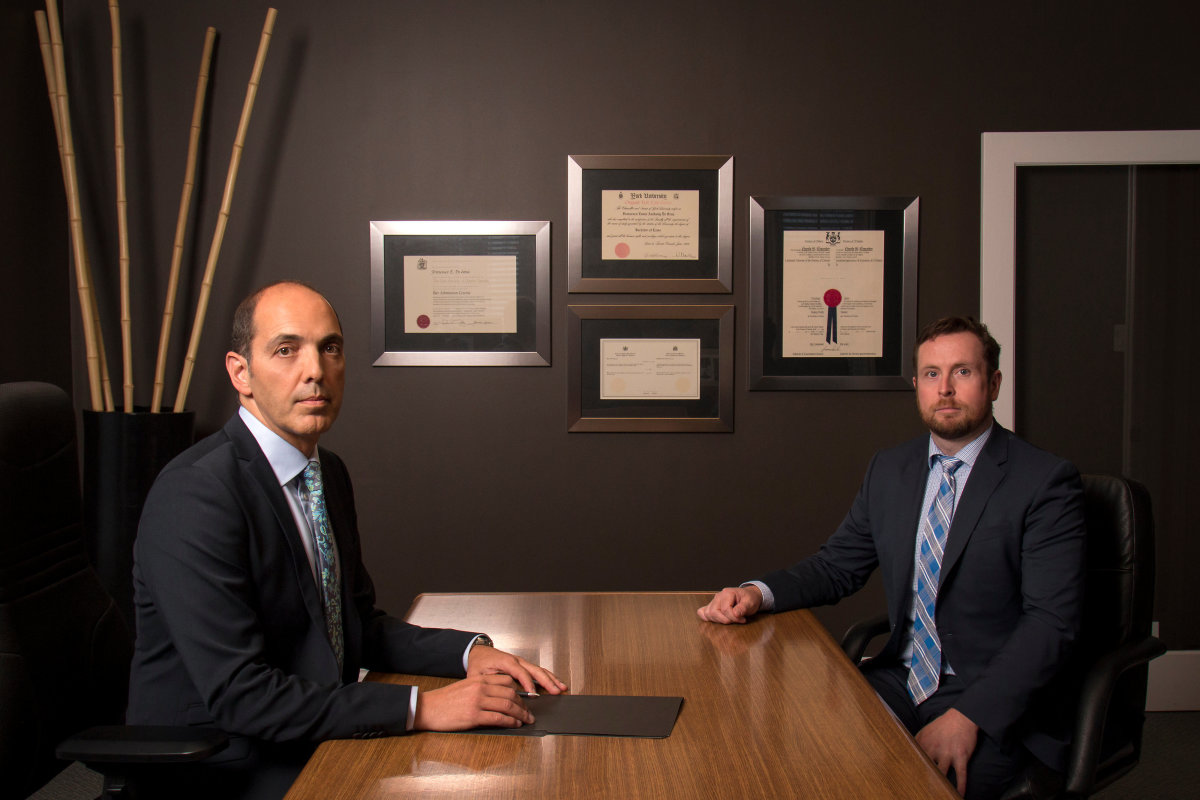 Their current office was built under extraordinary circumstances. "Pro Concrete showed up to pour the cement, and the construction crew didn't show up that day," Riley explains. The De Sena and Riley families stepped in to help. "We pulled together to pour the footings ourselves. There were 8 or 9 family members that helped that day. We literally built the firm from the ground up." While they want to remain in their current location, Riley explains that they have some renovations planned in honour of their 20th anniversary in the building. "We have plans to spruce things up this spring."
The firm prides itself on their customer service. They provide a variety of legal services, including home and business purchases and sales, wills, powers of attorney, estate administration, and general litigation. The staff of eight includes Catherine De Sena, who has been the office manager for twenty years. "We do real estate a little different. We schedule two appointments with clients. The first is just to go over the process so everyone is informed and understands what to expect." Clients review all the paperwork and receive a draft budget at this initial appointment. "Everyone's situation is a little different, whether it's a first-time home buyer or someone buying a business property."
Riley enjoys being involved in the community. He spends time networking and doing presentations to a variety of groups, and he takes part in the local Kiwanis organization. "The Kiwanis involvement has been very good. You get to meet a lot of great people. I also wanted to support the Animal Farm. I loved visiting it as a kid and have a lot of great memories. I want to make sure that tradition continues."
For more information visit: http://desenalaw.com/
Three editions of the Year of Local have been released. They are available for purchase at
The Book Keeper
. 100% of the proceeds will be donated to the local Sarnia-Lambton charities featured in the books.