When Kelly Graham started Essence Reflexology, her vision was clear. She wanted to provide her clients with the same benefits that she had experienced from reflexology. "I had my first reflexology treatment when I was a teenager and was impressed with the results of the treatments and how they made a difference in my life. I felt better, I slept better, and had a better sense of well-being," she details.
In 2009 Graham received her reflexology certification from the Ontario College of Reflexology and she opened Essence Reflexology the same year. The training was challenging for Graham, who hadn't studied for exams in nearly twenty years, but also very rewarding. "I found the studying was hard but I overcame that and did well on both my written and practical exams," she says with pride. That same year, she also began studying reiki. She added reiki to her service offering after completing her Reiki Levels 1 and 2. In 2011 she received her Master Level Reiki certification.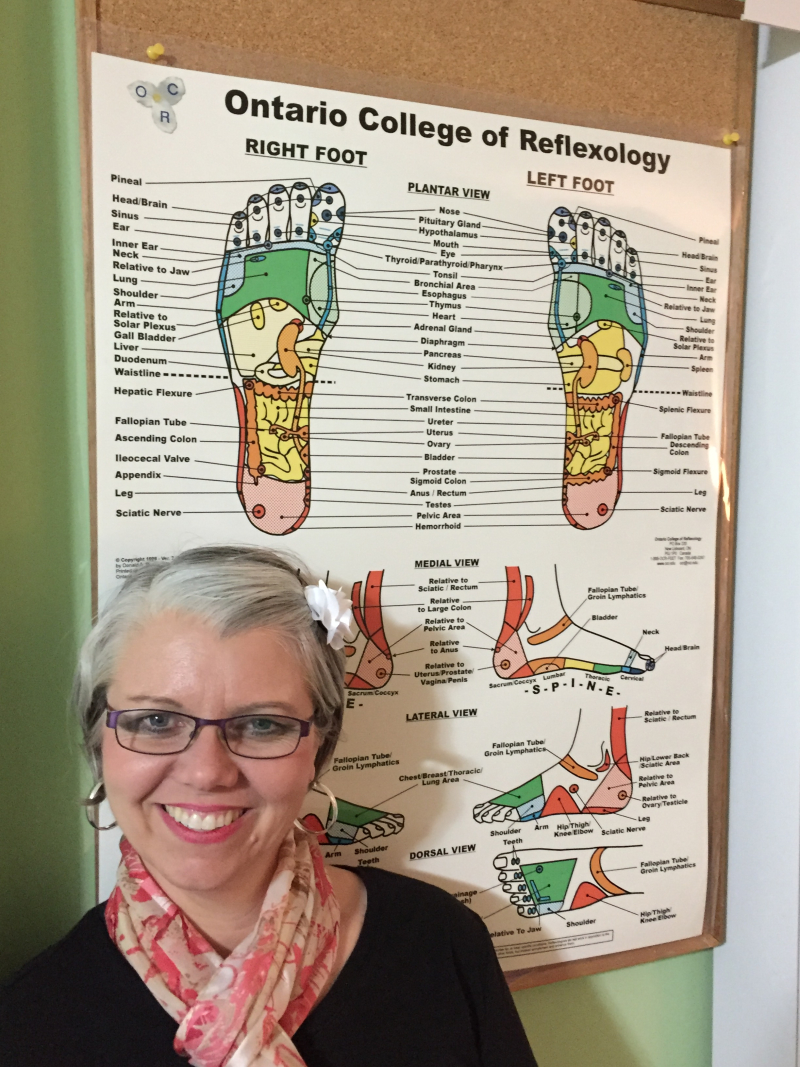 When she began her business, Graham had the support and encouragement of Dr. Beth Hodgins of Corunna Chiropractic. "Beth was a great role model to me. She is very caring to her staff and patients and was very supportive and encouraging to me to when I started my business and the years that followed," Graham explains. Taking her cues from Dr. Hodgins, she caters to the needs of each individual client and delivers services where it is most convenient for them. "I offer personalized service whether at the client's home or at my office. All of my clients are very important to me and I provide services based on their needs."
Seeking to further enrich her service offering, Graham added yoga to her repertoire. "In 2012 I focused my efforts on getting fit. I took a few yoga classes and fell in love," Graham explains. "It helped me really learn a lot about myself and grow as a person. I began taking yoga teacher training classes so I could pass on that love and share the joy of yoga with others." Graham's yoga classes take place in her own studio and class sizes are limited. "I draw people to my yoga classes who might not feel comfortable venturing to a gym environment. All of my classes are taught in a slow flow style and incorporate gentle stretching and meditation as well. I love teaching classes to those with differing mobility."
The most rewarding part of her business remains the connection that she has with each of her clients. "Getting to know my clients over the years and helping them to feel better and be proactive in their own healthcare and wellbeing has been the best part. With the yoga classes, the most rewarding experiences are seeing my clients grow and get excited when they try a new pose and succeed." She also appreciates the benefits of being able to offer her services throughout the county. Her yoga studio is in Sarnia, but she visits reflexology clients in Corunna, Forest, Petrolia and Watford. "All I ask is that you bring a positive attitude to my class, work to the best of your ability on that day and by the end of the class, leave all of your daily struggles behind you."
For more information visit: http://unearthyouressence.com/
Two editions of the Year of Local have been released. They are available for purchase at
The Book Keeper
. 100% of the proceeds will be donated to the local Sarnia-Lambton charities featured in the book.