Cogeco Business Solutions
Sean Robbins and Nelson DaSilva are Cogeco Account Executives serving businesses in Sarnia-Lambton and Chatham-Kent. "We are solution specialists. We meet clients to learn about their business and connectivity concerns. Then we develop solutions that improve how they connect with their colleagues and customers more effectively. This could mean changes to their internet, phone, managed services, TV or private network," explains DaSilva. Robbins adds, "Our goal is to help businesses thrive with leading-edge, customized solutions using innovative products and services backed by the Cogeco network."
Cogeco Business Solutions is part of Cogeco Connexion, a regrouping of Cogeco Communications Inc.'s Canadian cable operations. Cogeco started in 1957 in Trois-Rivières, Quebec. Cogeco Connexion is the second largest cable operator in Ontario and Québec in terms of the number of basic cable service customers served. They have more than 11,000 kilometers of fibre optic cable in Southwestern Ontario. Cogeco also prides itself on being a responsible and committed corporate citizen. Both DaSilva and Robbins are actively involved in the community. Cogeco's Travelling Ambassadors host pop-up barbecues and other events in cities and towns throughout Sarnia-Lambton and Chatham-Kent.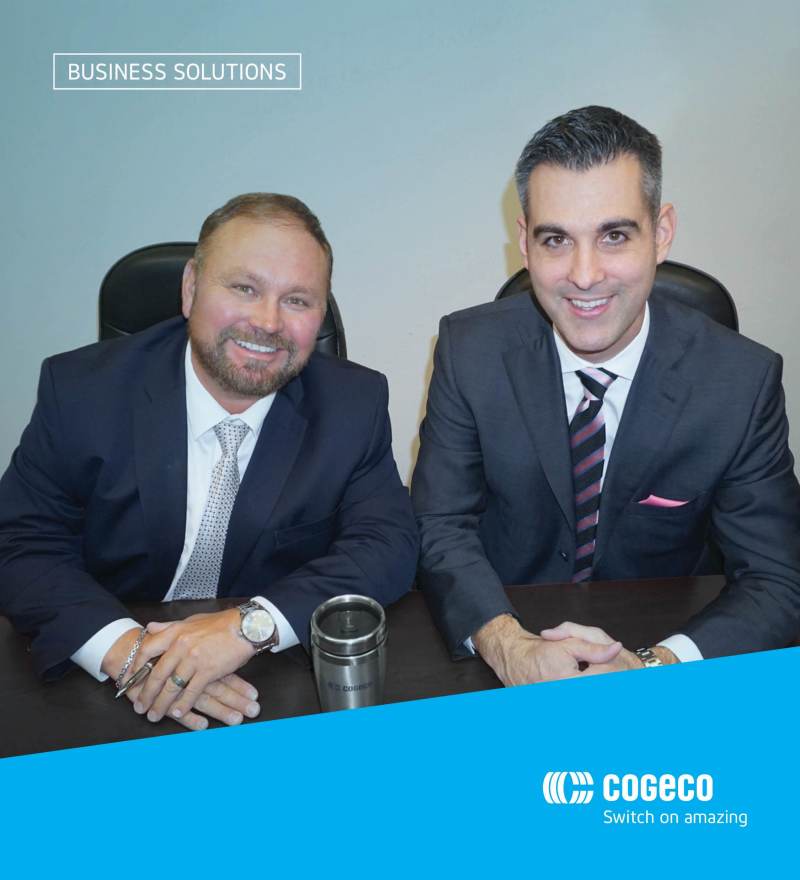 "At Cogeco, we're committed to our customers' success. We take great pride in seeing them thrive, and we're honoured to play a role in helping them achieve their growth targets," DaSilva explains. They have developed a customized approach unique to Cogeco Business Solutions. "We recognize that every business is as unique as the people who built it. That's how we approached our business relationship with our customers in the Sarnia-Lambton and Chatham-Kent regions. With them, we built a real partnership based on our unwavering commitment to providing our clients with solutions that help them gain a competitive advantage and help them realize the most value from their services."
"The most rewarding part of my job is when I meet with a stressed-out client and then provide them with a solution that frees up their time, allows them to sleep better at night, saves them money, and lets them focus on their business. We love to see the smile on their face when we find them a really good solution," DaSilva shares. For example, they have helped hundreds of businesses upgrade their phone systems. In a lot of cases, customers don't want to purchase a new phone system with technology changing so quickly. "We offer hosted PBX phone systems that provide everything—the phones, lines, internet, service, and support—with 43 calling features!"
Cogeco services many different sectors, including, healthcare, hospitality, sports, industry, and education. "Now that all students in grade 7 and older have iPads in the classroom, we support the local school boards who need powerful internet and large bandwidths. We also provide basic internet service to the small local businesses," explains Robbins. "If something needs fixing, we fix it. All of our technicians are local and can respond to issues quickly."
For more information visit: https://www.cogeco.ca/
Three editions of the Year of Local have been released. They are available for purchase at
The Book Keeper
. 100% of the proceeds will be donated to the local Sarnia-Lambton charities featured in the books.