On November 27, 1916 Sarnia City Council created the Sarnia Hydro-Electric Commission to supply power to Sarnia's residents. Their original office was located at 201 Front Street North. As the city grew, so too did its need for electricity, and the Commission continued to expand in order to meet local demand. In 1924 they began constructing the city's second substation at the corner of Vidal and St. Andrew Streets (the first had been built in 1880). Additional substations were added and power frequency increased over several decades. Towards the turn of the century, Sarnia Hydro approached the neighbouring municipalities of Petrolia, Point Edward, Alvinston, Warwick and Oil Springs about merging their Commissions in anticipation of the deregulation of the electricity industry in the province and Bluewater Power was incorporated on October 30, 2000.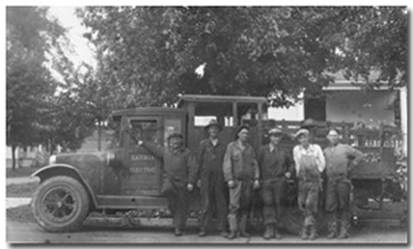 Bluewater Power and its affiliated companies continue to place innovation at the forefront. "Sometimes change is driven by external forces, but more often it is driven by our employees who are trying to help our customers better manage their energy needs or to take advantage of business opportunities for the benefit of our shareholders," explains Alex Palamaka, Senior Vice President and General Counsel. "From environmentally friendly landfill gas turned into electricity at two landfill sites to solar power projects and brand-new fiber optic technology business that was acquired by Bluewater power has our community on the leading edge of energy-related developments through world-class training and rigorous work processes." Bluewater Regional Networks is delivering an affordable fibre optic high-speed internet solution to local organizations. They are also driving innovation in other areas. Unconquered Sun is a Windsor-based solar technology business that was recently acquired by Bluewater Power. Bluewater Power is also working to capture landfill gas and turn it into electricity. Their goal remains increased overall value to their shareholder communities.
Janice McMichael-Dennis, President and CEO of Bluewater Power, attributes their accomplishments to the people involved. "Our success truly is all about the people, right from the phenomenal team we have here working with us today, to our past employees who came before us, our progressive and impressive board of directors, and even our loyal and supportive municipal partners. Everything we do is truly about the people who make it happen. Our community has supported us over the years and for that we are so thrilled to be part of a hometown energy services success story."

For more information visit: https://bluewaterpower.com/
Three editions of the Year of Local have been released. They are available for purchase at
The Book Keeper
. 100% of the proceeds will be donated to the local Sarnia-Lambton charities featured in the books.