In case you haven't already heard, Sarnia has a thriving theatre scene and there are so many ways for people to get involved. Just ask Shaun Hood, Dave Evans and Max Major. Evans describes what he loves about acting: "You get that immediate feedback from the audience, whether they are laughing, crying or cheering along. People think we get paid for this. We get paid in thundering applause and laughs!" Hood is more succinct: "The theatre bug gets you. It's such a rush."
Each came to acting in his own way. Evans was born in Belfast, Ireland and remembers seeing his mother performing in plays when he was a child. He began his own acting career after moving to Canada. At nine years old he landed the lead in the St. Benedict's production of Oliver. He remembered the Sarnia Observer commenting at the time that it was a coup for the director to have found a boy with a British accent to play the part. "I didn't have a British accent. I was just good at doing accents when I was acting," Evans explains.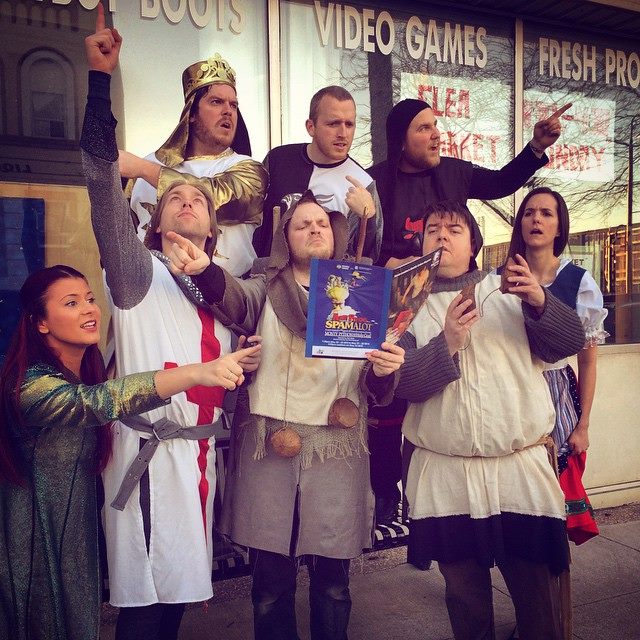 Hood was eleven years old when he was introduced to local theatre. Laurie Douglass, a co-worker of his mother Jane's, invited him to join the cast of West Side Story. He was less than enthusiastic at first. "Then I met Katie Pitt and Steve Thrasher. I met friends for life! I had one line and I was so scared when I had to say it." Major avoided the theatre scene for many years. Although he had taken theatre class at St. Clair High School, he refused involvement until his friend Ian Alexander asked him to join The Brain from the Planet X. "Ian kept asking me to come out and finally a play came along that I was interested in. It was a lot of fun and the people I met were amazing."
All three first came together to take part in Theatre Sarnia's 2015 production of Monty Python's Spamalot. The show was directed by Dan White with musical direction by Frank Brennan. "We rehearsed for months and months in an empty theatre," Major explains. "You go through all these scenes with jokes but there is nobody there to laugh. You never know how things are going to go until you have an audience. Some of the lamest jokes got the biggest laughs right from opening night." The show was one of the most successful in Theatre Sarnia's history.
All three point to the many people and the hard work that goes into putting on a production like Spamalot. "It takes a whole crew to put on a show. There are stage hands, costumes, make-up, etc. When you aren't acting in a show there are so many opportunities to be involved," Major explains. "Sarnia's theatre community is very special. The people make it what it is and that is why it continues to grow year after year."