Do you believe in destiny? Catherine Wilde certainly does. Cathy was simply looking for a summer job when she applied to Sarnia's Fleck & Daigneault law firm in 1999 as a student. She got the job, and fast for- ward to today where Cathy is now the owner of the firm. "I started here as a student and then returned in 2000 to article when I finished law school," Cathy says. "Then in 2002, when I was called to the bar and became a lawyer, I stayed on as an associate, eventually becoming a partner and I have owned the firm since 2015, when we changed the name to Fleck Law."
Fleck Law is a personal injury litigation firm and Cathy has embraced helping others who have been wronged find justice. "I have been very fortunate to have a fantastic experience and wonderful mentors. When I started here, I certainly did not see ownership of the firm as an end goal. I was able to get first-class legal experience under my belt before I moved into the next stages of partnership and ownership."
Cathy purchased Fleck Law in 2015 from Carl Fleck and Pascale Daigneault, who both continue to be involved with the firm. Since then, Cathy has continued representing people who have suffered serious injuries in automobile accidents, slip-and-falls, assaults, and other personal injury matters.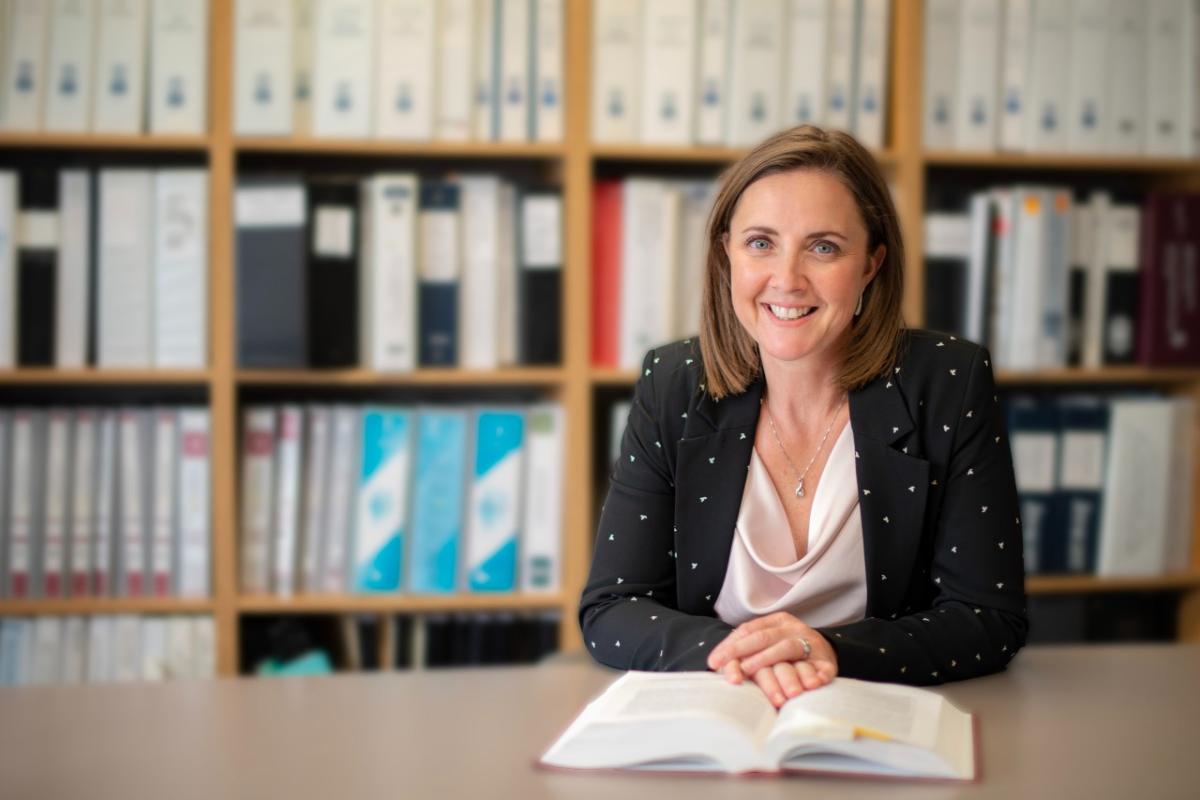 To give back to the community, the firm is a part of the Ontario Trial Lawyers Association campaign, Helmets on Kids. Fleck Law educates local children about bike safety and provides each participant with a free bike helmet. "We see individuals of all ages who have been injured in bike accidents, and when they do not wear a helmet the brain injury is often permanent," Cathy says. "Wearing a helmet might not prevent injury, but it can significantly minimize the damage suffered."
Cathy is a big supporter of Big Brothers Big Sisters of Sarnia and she is a board member and donor to Noelle's Gift. Through the Fleck Law Charitable Fund, many other community organizations have also been supported, including the Sarnia Art Gallery and Bluewater Health Foundation. Recently, the Bluewater Health Laboratory has been named the Fleck Law Laboratory in recognition of that support.
When it comes to attracting clients, Fleck Law takes a low-key approach, often relying on word-of-mouth referrals. "I define success not just by the compensation we obtain for our clients. That is important, but success must include being there for clients and supporting them throughout the entire process." This starts with the first meeting at Fleck Law. Getting suddenly injured is stressful and scary. "Our clients cannot work to support their families and worry about paying bills. Dealing with insurance companies is intimidating – they want to overwhelm you, hoping you will just go away." While the majority of cases are ultimately settled, the resolution of a claim can take years, so the entire team must have good and supportive relationships with their clients. "That way, when the claim is finished, we have helped our clients to recover from their injuries, taken some of the stress off of them, and helped them find their way to a new, but different, path in life."